The Top 7 Most Popular College Sports in the World
Many well-known schools and colleges are highly known for their outstanding sports teams. While the sports that are not popular at college or school levels are highly valued and popular among the youthful athletes.
Most educational institutes around the world have their sports teams as a co-curricular activity. As a result, many young talents are found in schools and colleges who aim to earn a name in sports.
What are the Top 7 Most Popular College Sports?
The top most popular college sports of all time are Track and Field, Table Tennis, Volleyball, Ice Hockey, Baseball, cricket, soccer, Basketball, and American Football. Interestingly, many major teams who are highly reputable have teams in more than one sport.
Here is the list of the top most popular college sports that became the key to success for many students. Keep on reading to know all about it.
7. Track and Field
One of the top's most popular college sports is track and field which is largely practised all over the world. But the USA is considered the home of track and field and has set world standards for male and female athletes in different disciplines of track and field.
A tradition is followed where students from middle school level through college are sent to be featured in track and field teams. The high school track and field of the US attempts to provide a splendid development in the creation of a huge talent pool of athletes.
6. Volleyball
Volleyball is the most popular and highly notable college sport in America. It is said to be an NCAA sport that is mainly for women. Many media channels have highlighted volleyball as an all-women's game which is not true. Around 109 schools have sponsored volleyball for men in three divisions.
The most popular college team in volleyball is Louisville. It leads the latest AVCA top 25 poll. Volleyball players are mostly selected at college and university levels. Beach volleyball is also getting popular in the US.
5. Baseball
Baseball stands third in the list of college sports ranked by popularity. It is the most watched and an all-time favourite sport in the USA. It is a summer sport and the highest-level tournament in this sport is major league baseball.
It is mostly a summer sport. The summer baseball league is an exercise for amateur players who play without being paid just to remain eligible for college baseball tournaments that are held in spring.
4. Football
Next on the list is football which has a huge fan following all over the world. There is something about this game that has captured people's hearts. It is most common in the USA. Many colleges in the US have athletic associations like NCAA, NAIA, NCAA, and USCAA. They also have recreational sports associations for schools besides this.
The associations do offer collegiate club teams but not collegiate programs. Alabama is said to have the most popular college football team by state. Some top American football players have been representing separate teams in the PDL every summer.
3. Basketball
Basketball is another popular college sport and has always been America's pride. According to research, around 26 million Americans largely participate in this sport. It is highly popular at both college and high school levels.
NBA, which holds the professional basketball league for men is considered the major professional sports league in North America. The Ohio State Buckeyes have the most popular college basketball team. Many champions are declared at the high school level in most of the US States.
Also Read: Richest NBA Players of the World
2. Cricket
Cricket is not the most popular in the US but it is a highly popular college sport in the commonwealth countries like the UK, Australia, India, etc. It is mostly played at school and college levels with most of them having their teams.
Cricket used to be the most popular in the US in the late 18th and 19th centuries but later it was replaced by baseball. The first intercollegiate tournament that took place in America was a cricket tournament.
Also Read: Top 7 Cricketers Known for Their Moustaches
1. Ice Hockey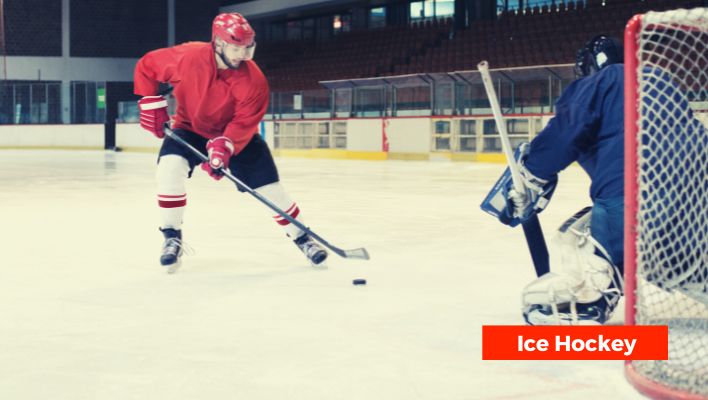 Ice hockey, a winter sport is also one of the most popular college sports having top college sports teams. The major professional hockey league in North America is NHL. It is the most important league but not as popular as the NFL, MLB, and NBA.
Ice hockey has a regional following mainly in Northeastern and upper midwestern USA at college levels. The National Championship in college hockey is the Frozen Four. Ice Hockey is now said to be one of the richest sports in 2022.
Also Read: Top Female Hockey Players of All Time
Conclusion
College sports have a huge fan following all over the globe and are highly valued mostly in the USA. It is a gateway to incredible success for students who tend to have a career in sports afterwards. I hope this article helped you gain knowledge about the most popular college sports.
Do leave your remarks below if you enjoyed reading them. Also, don't forget to share it with your sports enthusiast friends. Thank you!
FAQs