Top 10 Best Indian Bodybuilders 2023
Legendary bodybuilder and body sculptor Varinder Singh Ghuman is undoubtedly the best bodybuilder India has ever produced. He is also the first Indian bodybuilder to receive the IFBB pro membership. His fellow bodybuilders, Hira Lal, and Amit Chhetri, also deserve their mentions among the best Indian bodybuilders of all time, as they also boast a chiseled physique of absolute proportion.
Bodybuilding dates back to ancient Greece and Egypt. The first recorded large-scale bodybuilding competition was held on 14th September 1901 in London, UK. It was called the "Great Competition" and was adjudged by eminent people like Sir Arthur Conan Doyle and Sir Charles Lawes.
In the second half of the last century rise of the use of anabolic steroids was criticized by many and certain steps were taken by governments to restrict steroid abuse in bodybuilding. Here we have compiled the list of the top 10 best Indian bodybuilders 2023.
Best Indian Bodybuilders Right Now | Male Ranking 2023
India is a highly populated country; you can always expect she'll have her own share of sportsmen, women, and in this case, male bodybuilders. Today we bring you a list (in no particular order) of 10 totally awe-inspiring male bodybuilders from India.
10. Neeraj Kumar – World No 1 Bodybuilder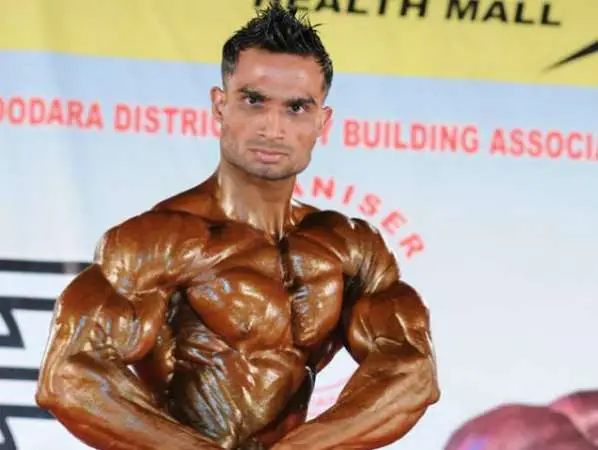 Kumar has already established himself as one of the most dominant Indian bodybuilders. Besides, he now also holds his place among the top 10 best Indian bodybuilders right now.
According to the Indian Bodybuilding site, he is currently one of India's best bodybuilders in his weight class. Kumar bagged gold in the 2013 Mr. India competition and a bronze at the WBPF Mr. World competition in the same year.
9. Rajendran Mani – India No 1 Bodybuilder
Mani is a former Indian Air Force officer who served for 15 years. He emerged as the winner of the 5th World Bodybuilding and Physique Sports Championships held in Hungary in 2015.
Mani is no amateur in winning coveted titles. He is an 8-time winner of both Mr. India and Champion of Champion titles. He now holds the ninth spot in our list of the top 10 best Indian bodybuilders right now.
8. Murli Kumar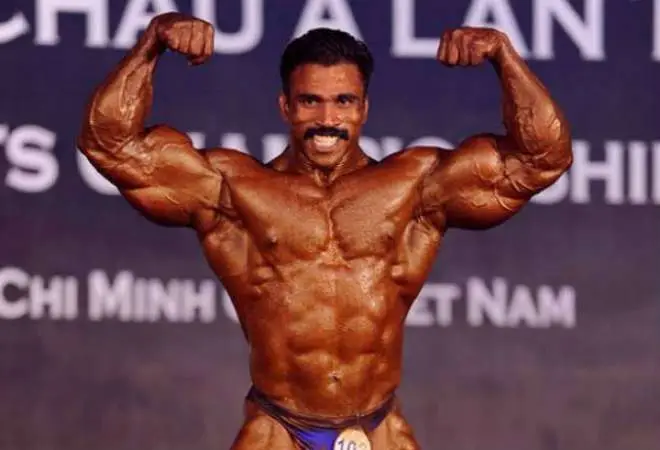 A software engineer serving the Indian Navy, R. Murali Kumar began bodybuilding over ten years ago. Hailing from Kottayam, Kerala, Kumar was ranked number one in the 2013 top 10 bodybuilders of India.
And now, he holds the eighth spot in the list of the top 10 best Indian bodybuilders right now. It was no easy feat for Kumar. Sangram Chougule, who is Maharashtra's Top champion, gave him a tough time before he could nail the title.
He has won the prestigious Mr. Olympia title 6 consecutive times and the title of Mr. India 2 times. Kumar wasn't always a bodybuilder. His story began when he fractured his leg. The doctors suggested he should strengthen his leg muscles, so he joined the gym. The rest, they say, is history.
7. Wasim Khan – Bodybuilder Championship
In 2015, Wasim Khan won the International Bodybuilding Fitness Federation (IBFF) championship held in Slovenia. Winning the IBFF is no piece of the cake. The 2015 IBFF saw 37 countries participating, with around 350 bodybuilders competing against each other. With his immense success that year, he now holds his place among the top 10 best Indian bodybuilders right now.
It was a proud moment, and Khan took this opportunity to thank people who encouraged and inspired him daily. Khan said he next aims to win the coveted Mr. Olympia title. Out of the plethora of achievements under his belt, he has also been crowned Mr. Universe.
6. Sangram Chougule – India's Top Bodybuilder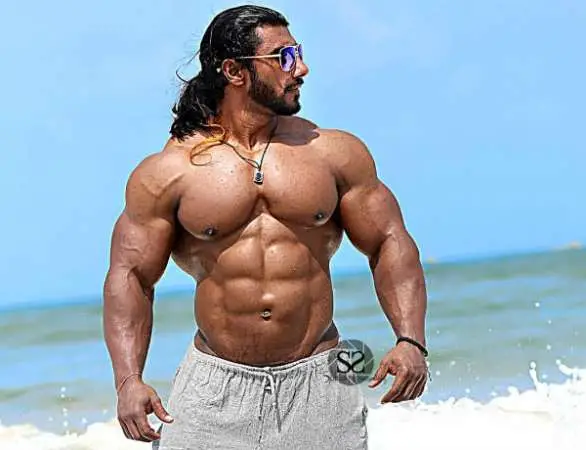 Chougule hails from a small village in Maharashtra. Before becoming a superstar in the world of bodybuilding, he was an electrical engineer. Chougule crowned Mr. India in 2015, making him a 6 time Mr. India champion. He now holds the sixth place in our list of the top 10 best Indian bodybuilders right now.
In the year 2012, he won the prestigious Mr. Universe title in the 85 kg category for the bodybuilding championship held in Bangkok, Thailand. Besides this, Chougule is also 5 times Mr. Maharashtra's winner.
5. Suhas Khamkar – Indian Top Bodybuilder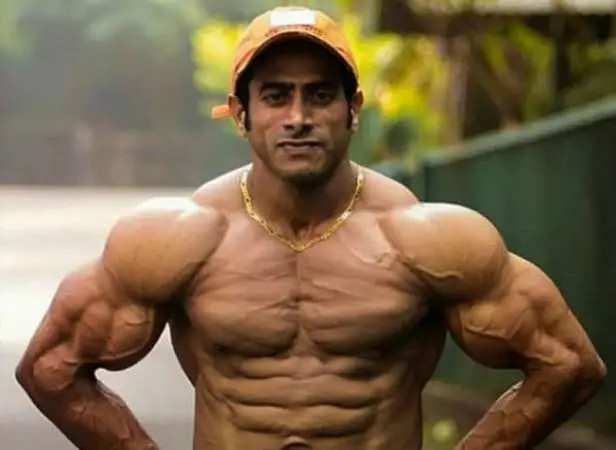 Madhukar Khamkar hails from a family of bodybuilders and fitness experts. When he was young, the bodybuilders at his native place Kolhapur, Maharashtra, inspired him. Arnold Schwarzenegger, too, has influenced him over the years.
Currently working for the Central Railway of India, Khamkar is the 10 times consecutive winner of Mr. India (2004-2015) and the 8-time winner of Mr. Maharashtra.
He was also the first Indian champion of Mr. Asia (2010). He is the first Indian Bodybuilder to get the Star award and also a Mr. Olympia Amateur winner. Suhas Khamkar now holds fifth place among the top 10 best Indian bodybuilders right now.
4. Raymond D'Souza – India's Best Bodybuilder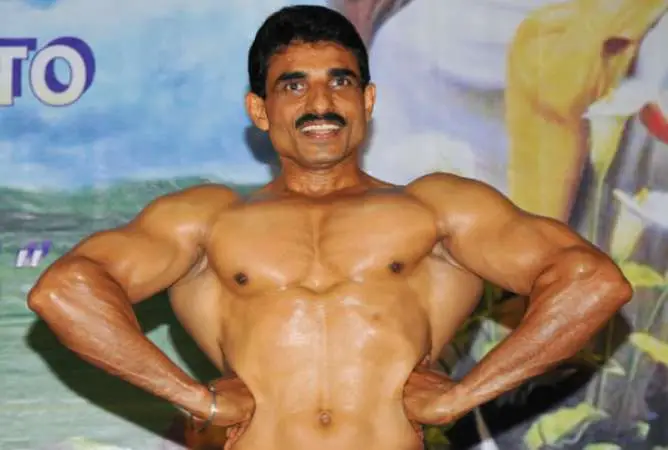 D'Souza is one of the Male Body Builders From India, famous for winning the Mr. World title in year 1990. In 2010, he won the Bharath Kesari Title in the All India Body Building Competition held in Chattisgarh.
Beating 28 other competitors from across India, he topped the Super Tall Class Category. He also played a prominent role in making bodybuilding one of the most popular sports in India.
D'Souza has been bodybuilding and actively competing since he joined the Corporation Bank in 1984. What is most fascinating about this man is that he's won most of the known All India Bodybuilding titles like Bharath Shrestha, Bharath Kishore, Bharath Shree, Bharath Kumar, and Bharath Kesari, is the latest.
3. Amit Chhetri – Best Body Builder in the World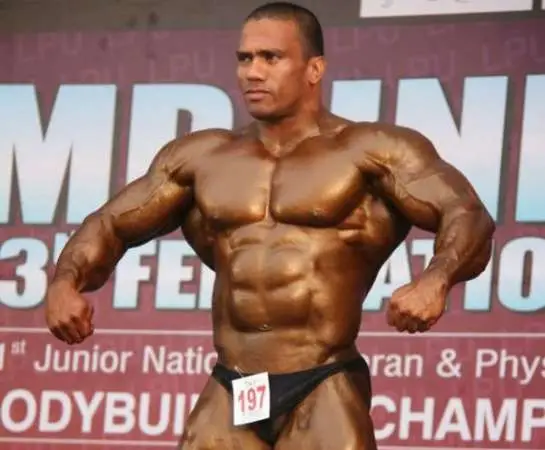 In 2007, Chhetri won gold in Mr. India Federation Cup; then, he nailed a silver medal in Open Senior Mr. India in 2012. In 2013 Chhetri won the 'Champion of Champions for the Federation Cup' title.
He holds the best place in a number of categories. In 2015, Chhetri bagged a gold medal in the 100-kg category of Fairfax World Police and Fire Games 2015 held in the US.
Before clinching the medal, he had to beat 42,000 competitors from 90 countries. Chhetri has been working as a constable for the Uttarakhand Police since 2006. He now holds the second runners-up spot in our list of the top 10 best Indian bodybuilders right now.
2. Hira Lal – Body Building Champion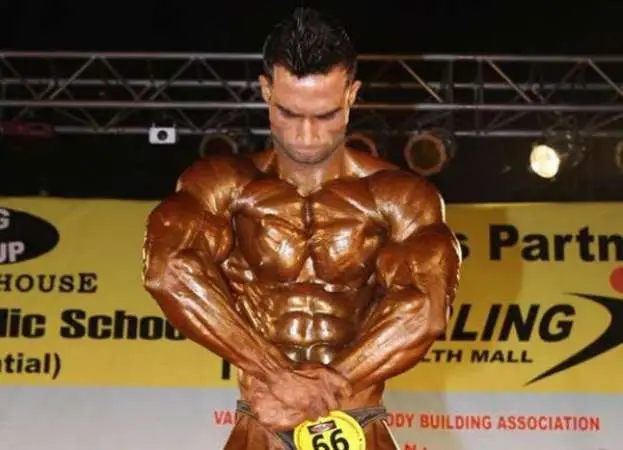 Lal is one of the professional bodybuilders from India who won the 65th World Body Building Championship and was crowned Mr. Universe. He is 4 times Federation Cup winner and 8 times Punjab Champion.
He has also won the National Gold medal thrice and the Mr. India title twice. Lal also now holds the second spot in our list of the top 10 best Indian bodybuilders.
Some of his other achievements are as follows – winner of Jr. Mr. India in 2000, Mr. G.N.D.U., Mr. All India University, Mr. Asia in 2010, Mr. World Gold in 2011, silver medal in medal in Mr. Olympia Amateur 2012, silver medal in the 2012-13 Arnold Classic Amateur.
1. Varinder Singh Ghuman – Handsome Bodybuilder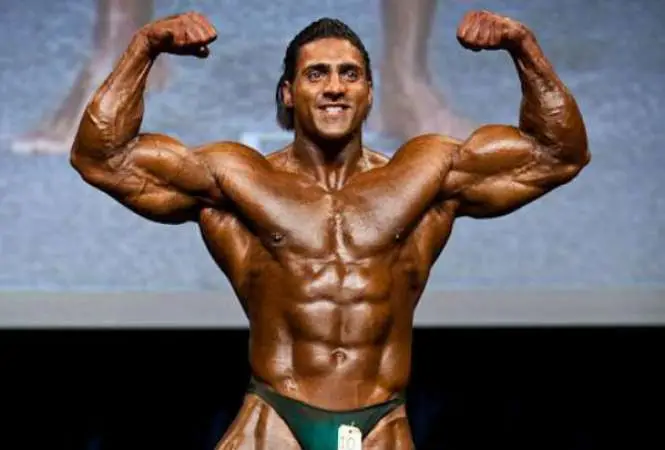 Besides being one of the top 10 best Indian bodybuilders right now, Ghuman is also a wrestler. Ghuman is one of India's best-known bodybuilders.
With his gigantic physique and popularity, Ghuman now promotes Arnold Schwarzenegger's health products throughout Asia. In 2009, he won the Mr. India title. Ghuman was born in a little village in Punjab.
Today he resides in Jalandhar and has transformed his home into a professional gym. In 2012, Ghuman was the protagonist of a Punjabi film called 'Kabaddi Once Again,' and rumor has it that we might soon get to see him acting beside Bollywood superstar Salman Khan.
Conclusion
So, which out of the list of top 10 famous Indian bodybuilders right now inspired you most? Let us know in the comments below.
Best Indian Bodybuilders – Infographics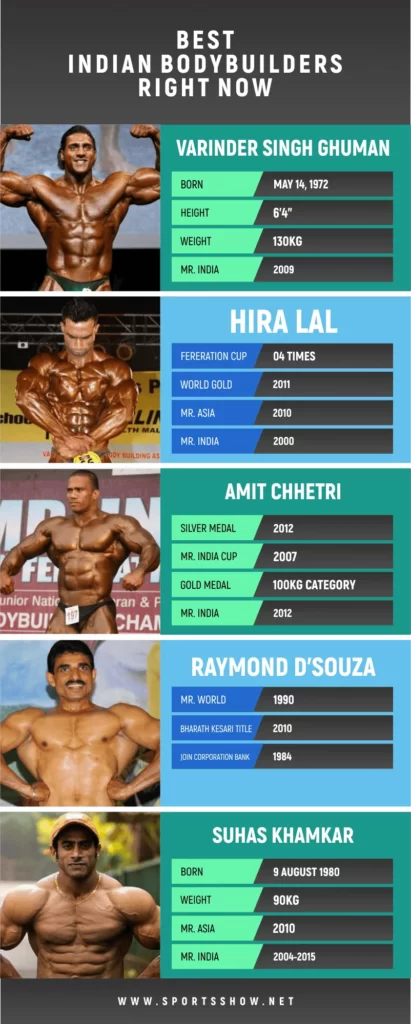 FAQs Regarding Best Indian Bodybuilders
Q. Who are the bodybuilders from India?
Sangram Chougule is an Indian bodybuilder born in Kolhapur and based in Pune. He won the Mr. Universe title in the 85 kg weight category in 2012. Five times he has been crowned Mr. Maharashtra and six times Mr. India.
Q. Which person has the biggest biceps in the world?
Bodybuilder Moustafa Ismail of Egypt lifts free weights at World Gym in Milford, Mass. The Guinness Book of World Records has recognized Ismail as having the biggest biceps and triceps in the world.
Q. Which Indian has the biggest biceps and triceps?
Chitharesh Natesan, 33, of Kerala, known as the 'Indian Monster' in bodybuilding circles, has been crowned Mr. Universe 2019 in South Korea. Eating, exercising, and repeating are his success mantras.
Q. What is Sahil Khan's net worth?
Sahil Khan, an Indian Fitness Icon, has a net worth of $5 Million (Rupees – 37 Crores) and is known for his brands and fitness. He is also an actor and fitness entrepreneur.
Last Updated On: December 2023