Top 10 Greatest Fast Bowlers Of All Time
Cricket is a very famous & widely played game, so much so that it's the 2nd most popular game in the World. And Bowling is a Crucial Part of the Cricket. There have been many skillful fast bowlers in the history of Cricket who made their names through their great bowling skills. Here we are going to make the list of the greatest fast bowlers of all time.
Legendary retired West Indian bowler Curtly Ambrose is now widely considered the greatest fast bowler the cricketing world has ever seen. He took 405 wickets in 98 Test matches and took another 225 wickets in 176 ODI matches he ever played in his career between 1988 and 2022. Pakistani left-hand pacer Wasim Akram and Australian bowler Glenn McGrath also deserve mentions in this ranking.
Some amazing pacers have already achieved their places among the greatest cricketers of all time. Besides, they also have special places in the hearts of cricket fans. So, without any further ado, let's check out the 2023 ranking.
Greatest Fast Bowlers of All Time | 2023 Updates
It is absolutely not easy to bowl faster in cricket. And these legends took the pace to the next level. They are not only known for just blazing speed but also for their precision and performance.
10. Waqar Younis (Pakistan | 1989 – 2003)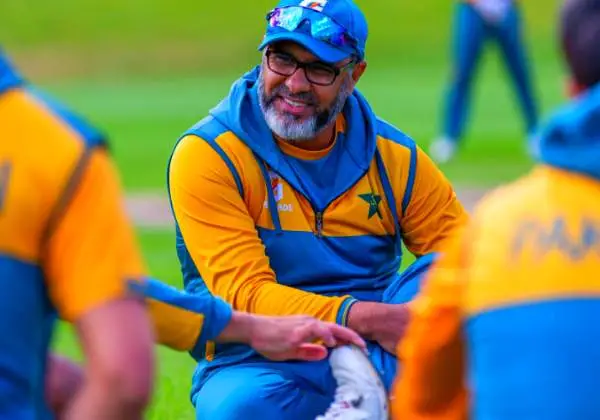 Waqar Younis has the best strike rate of any bowler who took over 200 wickets in test matches. Mr. Younis took almost 800 international wickets with an average of under 24 per wicket in both formats.
He has the world record for most five wickets hauls in one-day cricket. Waqar took 373 wickets in 87 test matches and also took 416 wickets in 262 ODI matches.
According to Cricinfo, "The man who really put the reverse into a swing, Waqar Younis, bucked the 1980s trend of pitching fast and short by pitching fast and full. Not an obvious recipe for success until you factor in prodigious late inswing, which was designed to smash into the base of leg stump or the batsman's toes."
9. Dale Steyn (South Africa | 2004 – 2019)
Out of all the bowlers that we mentioned today, Dale Steyn is the most recent player. He last played for the PSL franchise Quetta Gladiators in 2021.
ESPN says about Steyn, "Dale Steyn could be just the latest nuclear-tipped arrow that South Africa have drawn from their seemingly bottomless quiver of classy fast bowlers. The trouble, for opposing batsmen, is that he is rather more than that."
He took 439 test wickets in just 93 matches and took 196 wickets in 125 one-day matches. Besides, he also has 64 wickets in 47 international T20s.
Read More: How To Play A Straight Drive In Cricket? Detailed Guide In 2023
8. Sydney Barnes (England | 1901 – 1914)
Sydney Barnes is an English fast-medium bowler. He is regarded as the greatest fast bowler of all time in the history of cricket.
Sydney Barnes made his debut in the match against Australia on 13th December 1901. Barnes played 27 test matches for England from 1901 to 1914.
He took 189 wickets with an impressive average of 16.43, which is the biggest argument for his greatness. Sydney Barnes also took 719 wickets in his first-class career with an average of 17.09 runs per wicket.
7. Fred Trueman (England | 1952 – 1965)
A classical side-on-action who played for Yorkshire in county cricket. Fred Trueman represented England for 67 test matches.
Trueman was the first-ever bowler in the history of test cricket who reached the 300 wickets milestone. He remained the highest wickets taker for 13 years.
Overall he took 307 wickets with an average of 21.57 in his international test cricket career. He recorded his best bowling figures, 8/31, against their cricketing archrival Australia.
6. Dennis Lillee (Australia | 1971 – 1984)
Dennis Lillee broke Lance Gibbs' World record of taking the most number of wickets in his test career (309). He ended up with 355 wickets in 70 test matches.
Lillee was a very Dangerous bowler with a combination of speed and movement of the pitch and in the air. Lillee also took 103 wickets in 63 ODI matches with an average of 20.82.
He also has a prolific career in first-class and county cricket. Lillee took 882 wickets in 198 first-class matches he ever played.
Cricket Tips: How To Play A Perfect Square Cut In Cricket? 2023 Ultimate Guide
5. Sir Richard Hadlee (New Zealand | 1973 – 1990)
Unlike other fast bowlers, Sir Richard Hadlee was a very cool and calm character on the field. But his fast bowling has never been calm.
He was the one who gave a huge boost to cricket in New Zealand. Richard Hadlee was one of the greatest fast bowlers in New Zealand ever produced.
Sir Richard Hadlee also was one of the greatest all-rounders in cricket history. He took 431 test wickets in 86 matches, with an average of 22.29, and also took 158 ODI wickets in 115 matches.
4. Malcolm Marshall (West Indies | 1978 – 1991)
With a height of 5'11", Marshall was not very tall like other West Indians. However, he was one of the most dangerous swing bowlers of his time.
His bowling action was his trademark. Malcolm was a lot quicker than he looked. He is also a prolific finisher as a lower-order batsman for the West Indian side.
Marshall took 376 test wickets in 81 matches and 157 ODI wickets in 136 matches. He has a bowling average of 20.94 in test matches.
3. Glenn McGrath (Australia | 1993 – 2007)
One of the best Australian cricketers of all time, McGrath was the hunter of the "biggest fishes" like Bian Lara and Atherton.
In our opinion, McGrath was the all-time best fast bowler in terms of "using the no Ball." With spot-on line and length, McGrath took 563 test wickets in 124 matches.
He was the first fast bowler to play 100 test matches. McGrath also took 381 ODI wickets in 250 matches. He has the best bowling figure of 8/24.
You May Like: Is Big Bash bigger Than IPL? Detailed Comparison & Stats In 2023
2. Wasim Akram (Pakistan | 1984 – 2003)
The "Sultan of Swing," Wasim Akram, was also regarded as one of the greatest fast bowlers (left arm) ever in cricket history. Besides, he is also among the fastest bowlers Pakistan has ever produced.
Wasim Akram has a reputation for being the all-time best fast bowler in the history of ODI cricket. He was the bowler who could swing the ball both in the air and on both sides of the pitch too.
He was the first bowler to reach 300, 400, and 500 ODIs wickets. Wasim took 502 wickets in his ODI career and 414 wickets in his Test career. Wasim has a record of having over 900 international wickets.
1. Curtly Ambrose (West Indies | 1988 – 2000)
Curtly Ambrose is one of the tallest cricketers of all time. Ambrose was 6ft 7in, and he could release the ball from almost 10ft high.
He was one of the most dangerous fast bowlers with a lethal pace, bounce, and swing. He took 7 wickets for only 1 run against Australia at WACA 1992/93 season. That was one of the best bowling figures of all time.
Curtly Ambrose took 405 test wickets in 98 matches, with an average of 20.99, and also 225 ODI wickets in 176 matches. Without any doubt, he is the greatest and fastest bowler of all time.
Conclusion
Some of the current fastest bowlers, like Shaheen Afridi, Kagiso Rabada, and Lockie Ferguson, also deserve their place on this list. And that's all for today. We hope you've liked our 2023 ranking. Feel free to start a conversation with us in the comment box below.
Greatest Fast Bowlers In Cricket History | Infographics
Our Popular Post: Is PSL Bigger Than IPL In 2023? (Detailed Comparison + Stats)
FAQs
Q. Who is the greatest left-hand pacer of all time?
Legendary Pakistani bowler Wasim Akram is surely the greatest left-hand fast bowler of all time. He took a total of 414 wickets in Test matches and another 502 wickets in ODI cricket. Wasim is also the fastest bowler to cross the 400-wicket and 500-wicket benchmarks in ODI.
Q. Who has delivered the fastest ball in the IPL?
SRH's Umran Malik bowled the fastest ball of the tournament, clocking 153 KMPH, bettering his previous record against RCB. He is widely considered the best fast bowler of all time.
Q. Is Dale Steyn the greatest fast bowler of all time?
Among quicks, Steyn has taken the fifth most wickets and has the highest economy rate (3.24) of the bunch. An economy rate of over three is unheard of for a fast bowler who has at least 400 Test wickets. The striking rate of 42.3% by Steyn stands out on the table.
Q. How fast does Dale Steyn bowl?
In the 2010 Indian Premier League, Steyn bowled at a speed of 156.7 km/h (97.3mph) for Royal Challengers Bangalore against Kolkata Knight Riders, which was his highest score. Furthermore, he is well known as the fastest bowler in the world.
Last Updated On: December 2023