Former Romanian basketball star Gheorghe Muresan, with an impressive height of 7 feet 7 inches, is widely dubbed the tallest basketball player ever to grace the professional circuit. Sudanese American basketball star Manute Bol, with a height of 7 feet 6.75 inches, and legendary Montenegrin player Slavko Vranes, with an impressive height of 7 feet 6 inches, also deserve their mentions among the tallest NBA players of all time.
In NBA, we commonly see NBA players over 7 feet, and the top 10 tallest NBA players ever measure 224 cm and above. So let's see who is the tallest NBA player in 2023. Basketball players have a reputation for being tall. According to some reliable surveys, the average height of basketball players is around 6 feet 7 inches. This was true in the case of NBA players between 1985 and 2006.
Tallest NBA Players And Their Heights | 2023 Updates
It isn't mandatory that only the tallest NBA players will shine on the court; we have seen some of the shortest basketball players turn out to be some of the greatest NBA players of all time. But, even though height has nothing to do with dunking skills, it definitely gives the player an edge. Let's take a look at the countdown of the top 10 tallest NBA players of 2023!
1. Gheorghe Muresan – 7' 7"
At the top position of the list of tallest NBA players is Gheorghe Dumitru Muresan, also called Ghiță, Big Ghiță, or just George, with a height of 7'7", though some sources also record his height as 7'8".
This Romanian man is also the tallest living person in his country, Romania. He is also one of the all-time tallest athletes in sporting history. This retired basketball player was drafted into the NBA by the Washington Bullets in the year 1993, two years after he began his basketball career.
He played in the NBA till 2000 and then played for Pau-Orthez (France) before joining the Maryland Nighthawks of the ABA, where he retired in 2006. He earned the title of NBA Most Improved Player in 1996.
2. Manute Bol – 7' 6.75"
Sudan-born American player Manute Bol has a height of precisely 7'6.75", according to the Guinness Book of World Records, and he technically misses the top spot by just .25 inches. He is currently the second-tallest NBA player in NBA history.
His name "Manute" literally means 'special blessing', and he got this name for being the son of a Dinka tribal elder. During his career from 1985 to 1996, he played for four different NBA teams.
The specialty of his playing style was that he secured a higher number of blocks than scored points and became the only NBA player to do so. In fact, he ranks second in terms of blocked shots per game and 15th on the career blocks list.
3. Slavko Vraneš – 7' 6"
However, several sources confirmed that he grew in height, and he now stands exactly at 7'6". This stat makes him stand at the 3rd rank, tied with two other players of the same height.
After his one season in NBA, during which he played one game, he joined the Iranian Super League, and since then, he has been a part of the league.
4. Shawn Bradley – 7' 6"
Bradley is tied with Yao Ming as one of the tallest NBA players right now. This 7'6″ tall retired basketball player has dual citizenship as an American and German.
He was born and brought up in Germany, and his career earned him American citizenship. He played as a center for some of the most well-known teams, i.e., the Philadelphia 76ers, the New Jersey Nets, and the Dallas Mavericks, during his career from 1993 to 2005.
Nicknamed "the enormous Mormon" and "the Stormin' Mormon," Bradley earned himself several awards and accolades during his long and successful career in the NBA.
5. Yao Ming – 7' 6"
At 7'6", Yao Ming is one of the tallest NBA players in the world. This retired professional basketball player is also the tallest NBA player to dunk from China. During his early days, he was counted among the tallest basketball player in high school around the globe.
His career lasted from 1997 to 2011. Ming played for the Shanghai Sharks from 1997 to 2002 and was drafted in 2002 for NBA. He played for the Houston Rockets till 2011, followed by his retirement before the NBA season 2011-12.
Ming established himself as a distinguished basketball player during his time on the court and won several awards. He is the tallest basketball player to be inducted into the Naismith Memorial Basketball Hall of Fame for his performance.
6. Sim Bhullar – 7' 5"
Tied with Podkolzin and Nevitt is Gursimran "Sim" Bhullar, a Canadian player of Indian descent. In fact, he is the first NBA player of Indian descent and is noted as one of the tallest basketball players NBA, with a 7'5″ height.
His youth career began in high school. He went undrafted in the 2014 NBA draft and joined the Sacramento Kings in the same year. Reno Bighorns acquired him as an affiliate player after he got waived by the team.
In 2015, he signed a 10-day contract with the Kings again and played for the final 16.1 seconds of the match. While doing so, he became the first player of Indian descent to play in the NBA.
7. Chuck Nevitt – 7' 5"
Retired American basketball player Charles Goodrich "Chuck" Nevitt also has a height of 7'5". Throughout his career of nine years from 1983, he played the center position in the NBA.
Nevitt is noted as one of the tallest NBA players. He represented several big names and the oldest NBA teams, including the Los Angeles Lakers, Chicago Bulls, etc.
During his days, he wore jersey No.52. He played in just 155 games during his long career, appearing for a total of 826 minutes, which sums up to less than 18 full NBA matches! Interestingly, though, he is the tallest basketball player in the NBA to win a Championship.
8. Pavel Podkolzin – 7' 5"
At 7'5", Russian basketball player Pavel Nikolaevitch Podkolzin, who formerly played in the NBA and the NBA Development League, is in 8th place on the list of the tallest NBA players in 2023.
After his initial draft in 2004, Dallas Mavericks drafted him during the 2005 NBA draft. He is 305 lb heavy as of 2018. Despite his remarkable size, amazing skills in blocking, and fabulous strength, he was chosen late.
Pavel also had to struggle to fit into the league; he only managed to make six appearances between 2004 and 2005. He joined the Russian Super League in 2006-07 and has been playing there ever since, which also makes him one of the oldest basketball players currently in action.
9. Mark Eaton – 7' 4"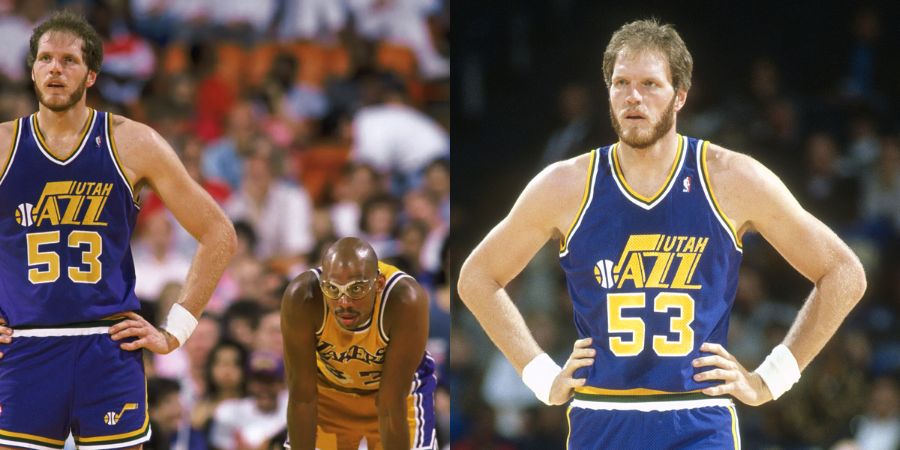 Tied with Ralph Sampson is Mark Eaton, another retired American player who is among the tallest NBA players of all time. Throughout his career between 1982 and 1993, he was associated with the Utah Jazz, one of the best teams in NBA history.
His height played an important role in making him one of the best defensive centers in the history of the NBA. He also holds the record for the most blocks in a single season (456), as well as the career average of blocked shots per game (3.50).
He earned the title of NBA Defensive Player of the Year twice during his career. Netherland's Rik Smits and US Priest Lauderdale also stand at 7'4″ along with Mark.
10. Ralph Sampson – 7' 4"
At 7'4", Ralph Lee Sampson, Jr. stands at the 10th position among the tallest NBA player in history. This retired American basketball player represented several teams throughout his career.
But, he has earned his highest reputation with the Houston Rockets. He achieved the College Player of the Year title thrice in his career. Ralph also became the first to be selected in the 1983 draft of the NBA.
He then earned the title of NBA Rookie of the Year. Inducted into the Naismith Memorial Basketball Hall of Fame, Ralph was one of the most dependable among the leading points scorers NBA. Injuries led him to an untimely retirement.
Honorable Mention: Robert Bobroczky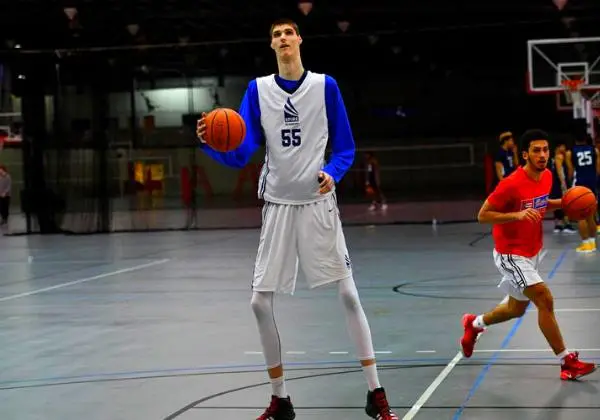 Although he is still in the development stage, Robert Bobroczky deserves his mention on this list. This 7 feet 7 inches Romanian basketball prodigy has attracted the eyes of the public since his early childhood days.
He is the son of former basketball player Zsigmond Bobróczkyi and inherited the genes of his immense height. At the age of just eight, Bobroczky touched the height of 6 feet 2 inches and crossed his mother.
And in just 12 years of age, he crossed his father. After spending some time with the Italian side A.S. Stella Azzurra, he is currently playing for the SPIRE Institute and Academy. He recently committed to the famous Rochester University in Michigan in July 2020.
Final Words
If we look at the top NBA players in terms of playing positions, Kosta Perovic is the tallest forward of all time at 7'2"; Dan Langhi is the tallest among NBA's small forwards at 6'11"; and at 6'8", Steve Smith is the tallest shooting guard in NBA history.
Serbia's Boban Boban Marjanovi?, who measures 7'3.5", is the tallest player in NBA right now. We hope you like our ranking. And don't forget to comment with your opinion about the tallest NBA players in 2023.
Tallest NBA Players – 2023 Infographics
FAQs Regarding Tallest NBA Players
Q. Which NBA player is the tallest at the moment?
Tacko Fall currently holds the record for the tallest player in the league. While height is not a requirement for success in the NBA, it certainly helps. The NBA used to be dominated by big men. Six-foot-10 George Mikan was the best center of all time, winning four of the first five NBA championships.
Q. What percentage of people are 7 feet tall?
Based on my research, it appears that there are between 2,000 and 3,000 7-foot tall (or taller) people in the world. According to statistics, only 85 to 150 people in the United States are 7 feet tall or taller, which is one out of 2-4 million people.
Q. Which FIFA 21 player is the shortest?
A left midfielder from Central Córdoba, one of the LPF clubs, is the answer. The player's name is Nahuel Barrios. In both FIFA Mobile and FIFA 22, he is the shortest player, with a height of 156 cm.
Q. Is there a taller center-back than him?
Ndiaye, who joined FC Vorskla Poltava from the Ukrainian side FC Vorskla Poltava on a free transfer, is the tallest center-back in FIFA 22 by a centimeter. Ndiaye was with Vorskla for two years, which is his longest stay at one club.
Last Updated On: June 2023