Robert Bobroczky Biography, Net Worth, Height, Career, Family, and Other Interesting Facts
Romanian basketball player Róbert Bobróczkyi, commonly known by his anglicized name Robert Bobroczky, recently came into prominence because of his unbelievable height. Standing 7 feet 7 inches tall at the age of just 20, he already made his name as one of the tallest players ever to grace the basketball court. Besides, the American media started noticing the Romanian kid after one of his videos went viral on the internet in 2016.
| | |
| --- | --- |
| Full Name | Robert Bobroczky |
| Date of Birth | 17th July 2000 |
| Age | 22 years old |
| Profession | Basketball Player |
| Marital status | Single |
| Children | None |
| Spouse | Single |
| Height | 7′ 7" |
| Weight | Unknown |
| Siblings | Unknown |
| Father Name | Zsigmond Bobróczkyi |
| Net worth | $20k |
Robert Bobroczky Biography and Stats
Shortly after the video, he became an internet sensation. Several clubs started talking with him as he had already made his mark as one of the brightest prospects in basketball. However, he is currently training at the SPIRE Institute in Geneva, a premier sports institute in the United States. During his time with the Italian club Stella Azzurra, he recorded her name as the tallest player on the European basketball field.
Robert Bobroczky Early Career
During his high school education, Bobroczky joined an amateur-level basketball club called A.S. Stella Azzurra in 2014. This Italian basketball side is known for producing several greatest NBA stars like Andrea Bargnani. Since his early days, he caught the attention of his coaches for having midrange jumps and brilliant passing ability. Besides, he can outrun any player of his age due to his immense height and physical attributes.
However, he lacked mobility and endurance on the basketball court due to his low muscle mass. Besides having a huge stature, he also has a tremendously unnatural gait. His coach also noticed that he faced quick exhaustion like most basketball players of his height. And for that, Bobroczky can only play for a few minutes in a single go. His coach at Stella Azzurra started working on his lean muscle mass and exhaustion problems in 2014.
Despite having very little playing time, he became a part of the Stella Azzurra team that won the Under-15 championship title. That title-winning run also made him quite popular in the Italian basketball circuit. One of the basketball videos then went viral on the internet in early 2016. That video of him dominating his opponents with his unbelievable height attracted the attention of several national and international media houses.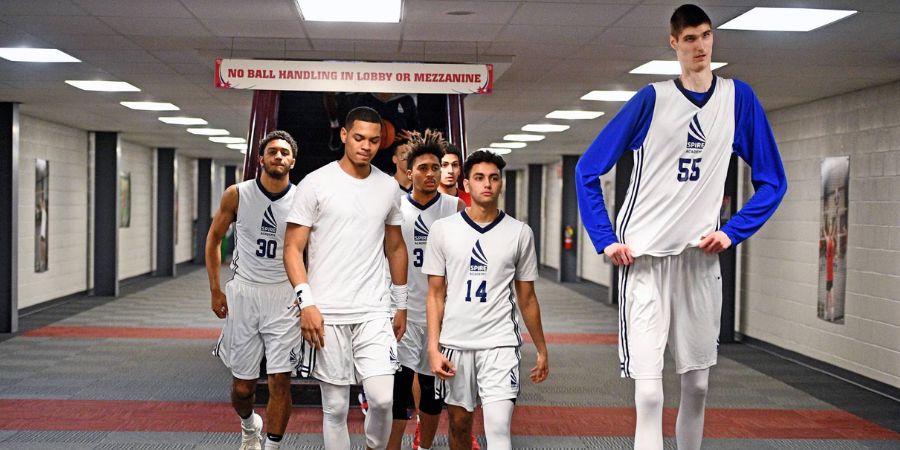 Robert Bobroczky High School Career
After spending two seasons with A.S. Stella Azzurra, Bobroczky joined the prep school of the famous SPIRE Institute and Academy in Geneva in 2016. This academy mainly provides all the sports training and schooling needs to talented athletes studying in high school and above. Besides, this 750,000 square feet sports training facility is situated in a 175-acre plot in Geneva, around a 45-minute drive from Cleveland.
The US government first made this sports training center in 2009 mainly to train American athletes preparing for the Olympic and Paralympic games. And since the initial year, this facility has supported several talented high school athletes. Since the arrival of Bobroczky in Geneva, his coach mainly concentrated on bulking him up a bit at first, as the American style of basketball is way more physical than the European style.
After training for a year, he made his debut for the SPIRE Institute on 14th January 2017. The organization now covers the cost of approximately $55k per year for his training and boarding. Besides, they also assure the proper medical facility through Cleveland Clinic and several sessions with a sports psychologist for him. In January 2018, he started attending the nearby Grand River Academy.
Robert Bobroczky Parents and Family
Born on 17th July 2000, Bobroczky spent most of his childhood in Arad in his native place, Romania. His father, Zsigmond Bobróczkyi, is a Romanian-born Hungarian former basketball player standing 7 feet 1 inch tall. Besides, her mother, Brunhilde Bobróczkyi, is also a former handball and volleyball player, currently standing 6 feet 1 inch tall. Robert is multilingual and can speak English, Italian, Serbian, and Hungarian besides his mother tongue, Romanian.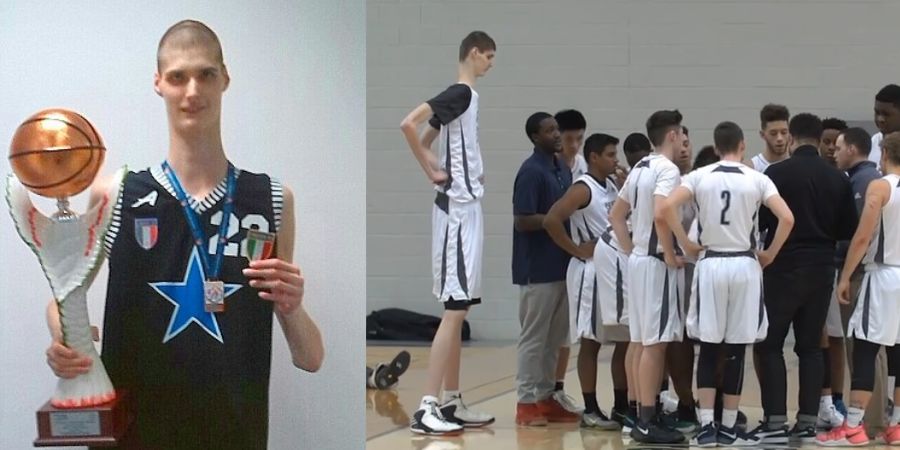 Robert Bobroczky Disease and Height
Bobroczky, standing at 6 feet 2 inches, became taller than his mother at the age of just 8. He then became taller than his father with his 7 feet 2 inches height at the age of just 13. While compared with the tallest man in recorded history Robert Wadlow at that same age, Robert Bobroczky was taller than him. From a very early age, he became the subject of several medical studies concerning his unprecedented height.
However, most of the studies indicate that his height is a result of healthy genetics with tall stature rather than any hormone-related issues or any overgrowth syndrome. Bobrovsky is the second tallest basketball player in the world right now, just behind Paul Sturgess. But he is extremely thin and weighs just around 200 lbs. He currently wears a size-17 shoe and has an inseam of 57 inches.
Robert Bobroczky Net Worth
According to recent financial reports, the net worth of Robert Bobroczky is estimated to be around $20k as of 2023. Although he never participated in any professional or rookie-level basketball league in America, he made most of his money through public appearances. Right now, the SPIRE Institute bears almost $55k per year just for education and basketball training.
Robert Bobroczky Stats – Infographics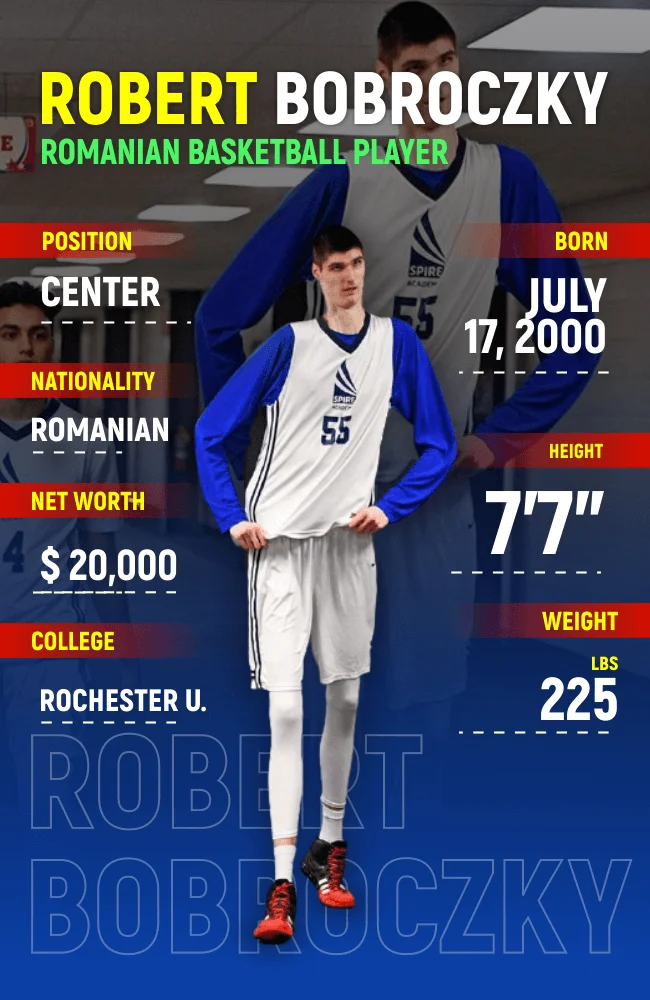 FAQs Regarding Robert Bobroczky
Q. Who is Robert Bobroczky?
Robert Bobroczky is a Romanian basketball player currently under training at the SPIRE Institute and Academy in Geneva, United States. He previously played amateur basketball for the Italian team A.S. Stella Azzurra. In 2016, Bobroczky went viral on the internet due to his 7 feet 7 inches in height.
Q. Where is Robert Bobroczky from?
Robert Bobroczky is from Romania, although his father is a Romanian-born Hungarian. Right after his internet sensation in late 2016, he moved to the USA and currently practices at the SPIRE Institute and Academy.
Q. How old is Robert Bobroczky?
Robert Bobroczky is 22 years old as of 2022. Born on 17th July 2000, he grew up in Romania before moving to Italy to join the amateur basketball club Stella Azzurra. And in 2017, he moved to the United States to join the reputed SPIRE Institute.
Q. How tall is Robert Bobroczky?
Robert Bobroczky is 7 feet 7 inches (2.31 meters) tall as of 2023. He became 6 feet 2 inches tall at the age of just 8. Within five years, he became 7 feet 2 inches tall at the age of just 13. Besides, he is currently the second tallest basketball player behind Paul Sturgess.
Last Updated On: November 2023