Top 10 Sexiest WWE Divas 2023 | Hottest Female Wrestlers of WWE
Sizzling-hot WWE wrestler Paige is undoubtedly the hottest WWE diva of all time. This two-time diva champion also achieved the NXT's Women's Championship title. Her fellow WWE wrestler Naomi and Eva Marie also deserve their mentions among the sexiest WWE divas of all time.
WWE is an entertainment business. And thus, over the years, many times, they have recruited women because of their sex appeal rather than their wrestling aptitude. And often made them go up against talented performers. But without a doubt, female stars are now carrying the hotness quotient of WWE.
Without them, the wrestling industry will surely look like a fountain without enough flow. So let's celebrate the hotness factors of these divas. Here we take a look at the top 10 sexiest WWE divas.
Sexiest WWE Divas In 2023
While watching supersized male athletes taking on one another is the main draw of WWE, female wrestling is also really popular among the WWE fandom. See these powerful, smart, and sexiest divas wrestling each other, and the roles they play in the various storylines over the years have been crucial to the commercial success of WWE. Here are the hottest WWE divas in 2023.
10. Rosa Mendes | Exotic WWE Diva
At number 10 in Sexiest WWE Divas is Rosa Mendes. Rosa is one exotic-looking babe, and that is because of her mixed Costa Rican and Czech descent. A former model, Rosa has been the dream diva of many WWE fans worldwide.
We don't blame them; her curvy figure, beautiful face, and sweet smile have been breaking the hearts of people ever since she stepped into the ring.
Not only just WWE, but she is one of the greatest female wrestlers of all time. Also, the fact that she is bisexual has widened her appeal among both men and women.
9. Natalya | Strongest WWE Diva
At number 9 in Sexiest WWE Divas 2023 is Natalya. She comes from a famous Hard Wrestling family. She was taught the arts of the trade by her uncles, Ross and Bruce Hart.
Before appearing on WWE, she was part of various promotions like Stampede Wrestling and Supergirl Championship. Coming from an accomplished wrestling family, she is a treat to watch in the ring. She also earned her place as one of the most technically gifted divas in the current roster.
Natalya is also a beautiful woman with curvy features, and the dominatrix-style hilarious WWE outfit that she wears further highlights her curves. She is one of those rare divas who are a treat to watch both inside and outside the ring.
8. Carmella | Hottest WWE Diva
At number 8 in Sexiest WWE Divas is Carmella. The quality of female wrestling showcased in WWE has increased drastically over the last few years. And without any doubt, this is because of the recruitment of divas who can be strong and fight well.
Many divas proved themselves as the strongest wrestlers apart from being sexy, and Carmella falls into that category. She has taken NXT by storm and shown how accomplished a fighter she is.
Apart from her in-ring talent, she is also a former NBA and NFL dancer with bombshell looks. She also earned the expectation of fans to dominate the hottest WWE women's scene in the future.
7. Summer Rae | Sexiest WWE Diva
At number 7 in Sexiest WWE Divas is Summer Rae. She is a model, actress, wrestler, and former American football player. Summer is one hell of the hottest WWE diva with looks that will make any actress or model green with envy.
One look at her Iron Man magazine shoot is sure to make anyone transfixed by her beauty. She also has enough brawn to compliment her beauty, considering the fact that she was the cornerback and team captain of Chicago Bliss.
In WWE, she has often used her seductive skills in matches to help her partners. And without a say, you can bet Tyler Breeze is one lucky man.
6. Sasha Banks | Fittest WWE Diva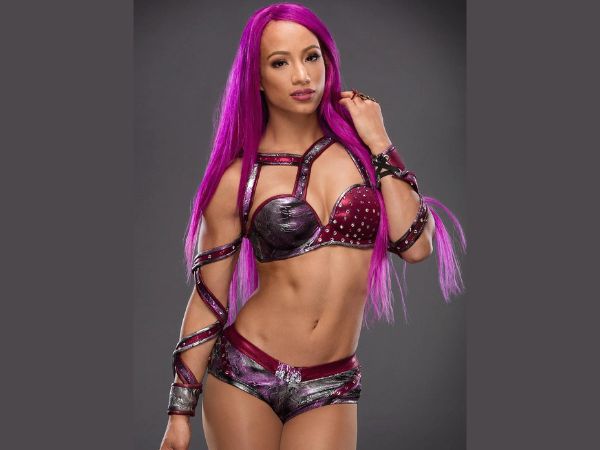 At number 6 in Sexiest WWE Divas is Sasha Banks. Sasha Banks is one of the most popular WWE Wrestlers of 2023, with even the entire crowd chanting her name during her matches.
She was a prolific wrestler even before her association with WWE. She became the Chaotic Wrestling Women's Champion in the Chaotic Wrestling promotion.
In WWE, she is a former NXT and RAW Women's Champion. Apart from her rapid exploits in the ring, another reason for her fame is that she is one hot lady.
5. Alicia Fox | Tallest WWE Diva
At number 5 in Sexiest WWE Divas 2023 is Alicia Fox. She is the first African-American Divas Champion in WWE history, but often it's her sex appeal that takes the front seat more than her wrestling achievements.
She debuted as the mistress of WWE Superstar Edge but then went on to script a successful career. Though her appearances in recent times have been rare, fans still see her in action too, whenever Team Bella is in action due to her association with them.
She is quite a hit on this list of sexy WWE divas because of her great personality, ample curves, and her straight red hair. Her assets easily make her one of the sexiest wrestlers on the WWE roster.
4. Charlotte Flair | Most Beautiful WWE Diva
At number 4 in Sexiest WWE Dives is Charlotte Flair. Wrestling runs in the family for Charlotte as her father, Ric Flair, is a WWE Hall of Famer. And as most of you know, her siblings David and Reid are also professional wrestlers.
She has carried over her father's flair and sex appeal, and combined with that, her blond bombshell looks; you have an instant winner.
Charlotte is also famous for her exploits within the ring as she is a former NXT Champion and two-time and current WWE Raw Women's Champion. She was also named Rookie of the Year by Pro Wrestling Illustrated in 2014. She is super agile, incredibly fit, and has a strong muscular figure.
3. Eva Marie | Gorgeous WWE Diva
Speaking of the hottest WWE Divas, at number 3 is Eva Marie. She is an actress, fitness model, and professional wrestler. Eva Marie might not be the most prolific wrestler among the divas of WWE, but there is no denying that she is definitely one of the sexiest.
With her eye-catching red hair and perfect physique, it's no wonder that she is also a model.
She first got noticed on the Total Divas Reality Show. And since then, she has attracted quite a number of eyeballs in her every venture, like her photoshoot for various fitness magazines. She made everyone drool with her famous photoshoot for Maxim Magazine.
2. Naomi | Greatest WWE Diva
At number 2 in Sexiest WWE Divas is Naomi. Naomi is a part of the Anoa'i family. A renowned American-Samoan wrestling dynasty through her marriage to Jonathan Fatu.
And like her famous father-in-law Rikishi, she uses her bottom in her signature move. The only difference is that when Rikishi used it, everyone cringed at it, but no one complained in Naomi's case.
In this list of WWE's hottest divas, Naomi is one of the curviest WWE Divas in the business. And without a doubt, she knows how to use it. She sharpened her seductive skills through her stint as a cheerleader for the Orlando Magic Basketball team before joining the wrestling world.
1. Paige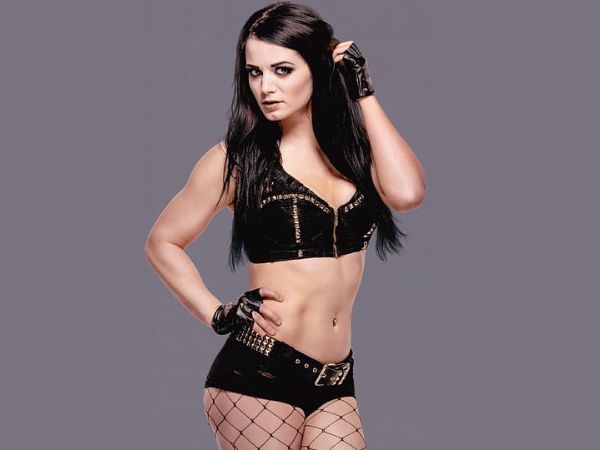 At number 1 in Sexiest WWE Divas is Paige. With her pale skin and black hair, Paige is one diva you just cannot turn your eye to. She also has the wrestling skills to make sure that people are tuned into her when she is wrestling.
Though there are rumors about her leaving WWE, she is still no doubt one of the best female divas of the current generation. She is downright sexy and also one of the best female wrestlers in WWE.
A two-time Divas Champion and NXT's Women Champion, she is the youngest wrestler in the history of WWE to hold the Divas Championship belt. As another surprising fact, her 308 days reign as NXT's Women's Champion is the longest in the title's history.
Conclusion
Divas are the backbone of the WWE industry, and they provide the much-needed contrast to the muscled men beating each other. While everyone has their own favorite divas, these divas, according to us, are the Sexiest WWE Divas in 2023. Don't forget to comment and share.
Sexiest Wrestlers In WWE | Infographics
FAQs Regarding Hottest WWE Divas
Q. Who is the prettiest woman in WWE?
There are many prettiest women in WWE at the moment. But there are some women who have huge fan followings and are widely known as the prettiest in WWE, including Eve Torres, Maryse, and Sable.
Q. Who is the sexiest female wrestler of all time?
The sexiest female wrestler of all time is Stacy Keibler. Cheerleader, actress, dancer, model, former wrestler, and former professional wrestler Stacy Ann-Marie Keibler is an American. Her work with Wrestling Entertainment and World Championship Wrestling has earned her particular fame.
Q. Who is the richest WWE woman?
The richest WWE woman is Ronda Rousey. A retired mixed martial artist and former professional wrestler, Ronda Jean Rousey is an American. She has a net worth of $13 million, which is why she got 1st spot out of all the richest WWE women.
Q. Who is the hottest female wrestler in WWE 2023?
The hottest female wrestler in WWE 2023 is Becky Lynch. A professional wrestler and actress from Ireland, Rebecca Quin, is a professional wrestler and actress. Under her ring name Becky Lynch, she performs for WWE on the SmackDown brand, where she is currently the SmackDown Women's Champion.
Last Updated On: December 2023