Top 10 Hottest Sports Illustrated Swimsuit Models of All Time
German model and Hollywood star Heidi Klum is undoubtedly the hottest and sexiest SI model the world has ever seen. This star has appeared in SI magazine twice till now. Russian model Irina Shayk with 2 appearances, and former American actress Kathy Ireland with 13 appearances, also deserve their mentions among the hottest Sports Illustrated swimsuit models of all time.
We immediately picture attractive people posing on a beach for a living when we hear the term Swimsuit models. However, in our fashion industry, many models don't only work as swimwear models. Many of them are actors, teachers, athletes, and Instagram sensations, with flawless bodies and sizes, which they flaunt in swimwear.
Here we have listed the hottest sports illustrated swimsuit models of all time. These top models astonish the world with their attractive beauty.
Hottest Sports Illustrated Swimsuit Models | All-Time Rankings
We have recently ranked the hottest gymnast of all time. Besides, we have also ranked the hottest tennis players and the hottest female golfers as well. But yes, this saga will remain incomplete without mentioning these super-hot Sports Illustrated swimsuit models. So, check this out!
10. Elle Macpherson
Full Name: Eleanor Nancy (née Gow) Macpherson
Country: Killara, New South Wales, Australia
Born: 29th March 1964
Sports Illustrated Cover Appearance: 5 Times
Model, entrepreneur, TV host, and actress Eleanor Nancy Macpherson was born on 29 March 1964. She is known as "The Body" by Time magazine because she appeared five times on Sports Illustrated swimsuit model covers starting in the 1980s. She also won the title of one of the sexiest SI models.
Elle Macpherson is the founder, primary model, and creative director for a variety of business endeavors, including Elle Macpherson Intimates, a lingerie collection, and The Body, a skincare collection.
Her responsibilities have included hosting and executive producing Britain & Ireland's Next Top Model from 2010 to 2013. In addition, as a producer and host of NBC's Fashion Star, she also was an executive producer.
The actress Macpherson appeared in supporting roles in The Mirror Has Two Faces (1996), as Julie Madison in Batman and Robin (1997), and in the lead roles in the films The Edge (1997) and South Kensington (2001). Her other credits include recurring roles on Friends and hosting an episode of Saturday Night Live.
9. Tyra Banks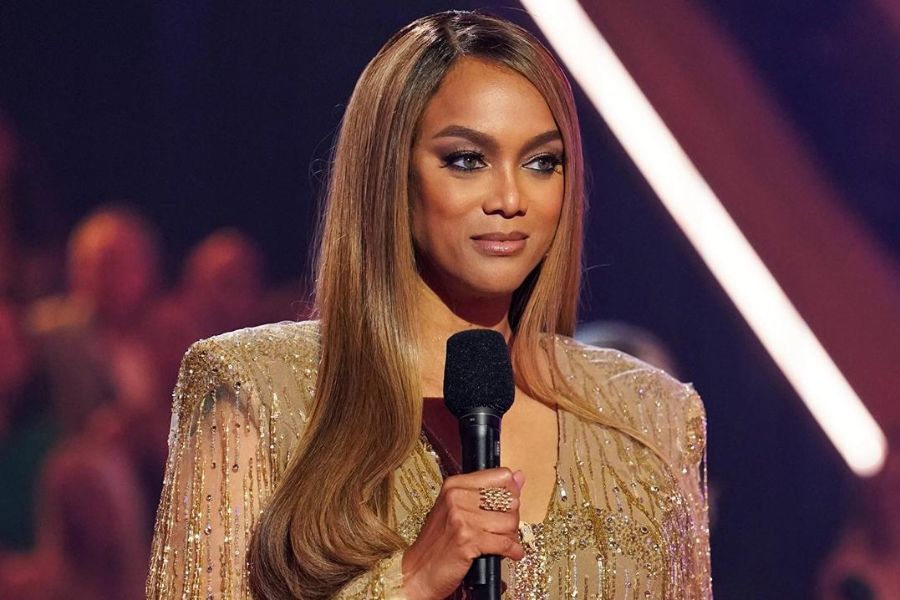 Full Name: Tyra Lynne Banks
Country: Inglewood, California, United States
Born: 4th December 1973
Sports Illustrated Cover Appearance: 3 Times
A TV personality, model, businesswoman, producer, actress, and writer, Tyra Lynne Banks, was born on 4 December 1973. She is also known as BanX. She became a model at the age of 15 after growing up in Inglewood, California.
Her appearances on the cover of GQ and the Sports Illustrated Swimsuit models cover Issue, in which she appeared three times, made her the first black woman to be featured in either publication. During her time as a Victoria's Secret Angel, she received numerous awards and honors.
Banks ranked among the top-earning models of the early 2000s. She made her film debut in 1995 in the drama Higher Learning after appearing on television in 1993's The Fresh Prince of Bel-Air. In 2000, she appeared in numerous films, including Life-Size on Disney Channel and Coyote Ugly, at the box office.
Besides Love & Basketball (2000), Halloween: Resurrection (2002), and Gossip Girl (2009), Banks has appeared in the television series Glee (2013). In addition, Banks is known as one of the hottest Sports Illustrated swimsuit models who gained many fans with her beauty and attractive body.
8. Brooklyn Decker
Full Name: Brooklyn Danielle Decker
Country: Kettering, Ohio, United States
Born: 12th April 1987
Sports Illustrated Cover Appearance: 4 Times
A famous American actress best known for her sensational acting skills, Brooklyn Decker is popular among her fans and peers alike. One of the most notable appearances by the actress in Sports Illustrated swimsuit models covers the issue.
Brooklyn Decker, SI Swimsuit's 2010 cover girl, joined the agency in 2006. On top of that, she has appeared in feature films such as "Battleship" and "Go with It" and TV shows like Grace and Frankie. One of the hottest SI swimsuit models, Decker enjoyed a long career as Victoria's Secret muse.
The 'Teen Choice Award' and the Texas Film Awards are among Decker's numerous accolades. Initially, Decker appeared as a model in several fashion magazines. Many well-known brands have featured her, including Glamour, Cosmopolitan, Teen Vogue, etc.
In addition to Flare, Esquire, and GQ, Decker has also graced the covers of these magazines. In 'The Devil Wears Prada,' she made her acting debut. Her music video' 3 Doors Down' was also a hit.
7. Kate Upton
Full Name: Katherine Elizabeth Upton
Country: St. Joseph, Michigan, United States
Born: 10th June 1992
Sports Illustrated Cover Appearance: 4 Times
A model and actress, Kate Upton was born Katherine Elizabeth Upton in Los Angeles. She was featured in 2011, 2012, 2013, and 2017 SI swimsuit issues and is known as one of the famous SI swimsuit models. The following day, Upton signed with Elite Model Management after attending a casting call in Miami.
IMG Models signed her in New York City after she moved there. For her first jobs, Upton modeled clothes for Garage and Dooney & Bourke. Guess the brand chose her as its face for 2010-11. The issue featured her in the body paint section and named her the issue's Rookie of the Year.
Currently, he is the face of Beach Bunny Swimwear and has been featured in Complex and Esquire as "The Woman of the Summer." Sports Illustrated published the 2014 Swimsuit Issue featuring one of the Beach Bunny suits. It was done at an LA Clippers game in April of 2011 and became a viral video that helped increase her popularity.
Observer Guy Trebay of The New York Times said this illustrated the power of social media to elevate models above top designer runways. Additionally, Upton performed the Cat Daddy dance, accompanied by the Rej3ctz song of the same name, in a viral video in April 2012.
6. Beyonce Knowles
Full Name: Beyoncé Giselle Knowles-Carter
Country: Houston, Texas, United States
Born: 4th September 1981
Sports Illustrated Cover Appearance: Once (2007)
Taking the cover position in Sports Illustrated's Swimsuit Issue is Beyonce Knowles. Only one non-model or non-athlete has ever signed the cover and made her spot on the list of sexiest sports illustrated models. It has a music theme and features a yellow-and-pink bikini on the cover of the 2007 edition.
Since her early childhood, Beyoncé Knowles had dreams of being more than just a performer: she longed to be a superstar. Her goal was achieved by the time she was 21 years old, and she became famous not only as an actress but also as a singer.
In 2003, Knowles released dangerously in Love, her solo debut, following her success with the R&B group Destiny's Child. She was a summer hit in 2003 with "Crazy in Love," featuring her boyfriend, rapper Jay-Z.
Knowles won a Grammy Award and an MTV Video Music Award for the song, which led the album to multimillion-unit sales. Taking on the role of Foxxy Cleopatra in Mike Myers's Austin Powers: Goldmember, she displayed her acting prowess.
5. Cheryl Tiegs
Full Name: Cheryl Rae Tiegs
Country: Breckenridge, Minnesota, United States
Born: 25th September 1947
Sports Illustrated Cover Appearance: 2 Times
Cheryl Rae Tiegs is an American model and fashion designer who was born on 25 September 1947. Tiegs is a well-known and beloved supermodel who repeatedly appeared in Sports Illustrated Swimsuit Models Issue, TIME, and the Pink Bikini poster in 1978. This print became an iconic symbol of 1970s pop culture. Tiegs' break as a model came when she was 17 after the editorial staff at Glamour saw Cole's bathing suit ad.
Instead of the traditional in-person interview, Tiegs shot with photographer Ali MacGraw in Saint Thomas. That photo shoot received enormous praises as the cover of Glamour. In the following year, she appeared on the covers of Seventeen and Elle. After her appearance on the cover of Vogue, she went on to cover Harper's Bazaar.
Her profile was significantly raised in 1978 when she posed in a fishnet swimsuit for the Sports Illustrated Swimsuit Issue. Additionally, she has appeared on four People covers and three TIME covers. She won several awards, including one for 'All-American Model' in 1978. A year later, during Cheryl's tenure with Cover Girl cosmetics, she signed a two-year contract for $1.5 million, which was the most lucrative deal ever signed.
A recipient of the Sports Illustrated swimsuit issue's 40th anniversary "Hall of Fame" in 2004, Tiegs has also been featured on People's 2008 50 Most Beautiful People list and Men's Health Magazine's 2012 list of the 100 Hottest Women of All Time. In 2001, Tiegs was photographed in a bikini for the cover of More, earning him considerable acclaim for his accomplishments in advancing fitness, fashion, and beauty.
4. Bar Rafael
Full Name: Bar Refaeli
Country: Hod HaSharon, Israel
Born: 4th June 1985
Sports Illustrated Cover Appearance: Once (2009)
A resident of the Israeli countryside, Bar Refaeli grew up on a horse ranch. She started modeling at age 11 after recognizing her face was to be her fortune. Bar appeared in Castro's yearly fashion catalog and Pilpel's swimwear label when she was 15.
Her homeland featured a beauty contest in 2000, and she won the title the following year. She became the face of the Renaur fashion line and was also featured in the French magazine Elle. Sports Illustrated published the first Israeli model on its pages.
Bar is one of the blonde Sports Illustrated swimsuit models who gained massive popularity because of her beauty. The success of her business came after she partnered with Ralph Lauren and the lingerie label Victoria's Secret.
In 2006, Leonardo, the Titanic star, gave her profile a further boost after they began dating. Apparently influenced by her boyfriend, the catwalk star has turned her attention to the world of film. As for her first production, she already has an agreement with Session, a psychological horror-thriller released in 2008.
3. Kathy Ireland
Full Name: Kathleen Marie Ireland
Country: Breckenridge, Minnesota, United States
Born: 20th March 1963
Sports Illustrated Cover Appearance: 3 (Total 13 times)
Kathleen Marie Ireland, born on 20 March 1963, is an American model and actress turned author and entrepreneur. One of the hot Sports Illustrated swimsuit models who won 13 consecutive issues during the 1980s and 1990s, including three appearances on the cover.
Kathy Kerry Ireland founded Kathy Ireland Worldwide (KIWW) in 1993, which has enabled her to become one of the wealthiest former models in the world. By 2015, she had amassed a $420 million fortune from her career as a businesswoman. In addition, her company witnessed staggering sales of more than $2 billion in 2012.
During her high school years in 1979, Elite Model Management scouted Ireland. Among her many magazine covers are Vogue, Cosmopolitan, Forbes, and Mademoiselle. When she was a teenager, Ireland says a photographer "crossed the line" and insisted she poses topless.
A source claims she felt uncomfortable, and he did not respect her "no." He was physically aggressive toward her, and she "decked him." "The Greatest Sports Illustrated Swimsuit Cover of All Time" was awarded to Ireland's 1989 cover during the magazine's 50th-anniversary celebration.
2. Irina Shayk
Full Name: Irina Valeryevna Shaykhlislamova
Country: Yemanzhelinsk, Russian SFSR, Soviet Union
Born: 6th January 1986
Sports Illustrated Cover Appearance: 2 Times
Known professionally as Irina Shayk, she was born on 6 January 1986. As the first Russian model to appear in the Sports Illustrated swimsuit issue of 2011, Shayk received international recognition. Models.com has ranked her as an industry icon."
This same year, Shayk debuted in Sports Illustrated's Swimsuit Issue, replacing Ana Beatriz Barros as the face of Intimissimi. In these annual editions until 2015, she appeared doing photoshoots in places such as St. Petersburg, Naples, Grenada, and Chile.
The model was the face of Intimissimi for three years before she became the brand's official ambassador. Besides Beach Bunny Swimwear, she also modeled for Guess for the spring/summer 2009 season. She has also designed for Victoria's Secret, Lacoste, Cesare Paciotti, and Morellato.
IMG Models signed her in May 2009. Her fans regard her as one of the most beautiful Sports Illustrated swimsuit models. Besides, she is also widely known for his romantic stint with one of the greatest soccer players of all time, Cristiano Ronaldo.
1. Heidi Klum
Full Name: Heidi Klum
Country: Bergisch Gladbach, West Germany
Born: 1st June 1973
Sports Illustrated Cover Appearance: 2 Times
Born in Bergisch Gladbach, Germany, on 1 June 1973, Heidi grew up in a cosmetics worker family, where her father Gunther worked. When she saw an advertisement for a modeling contest, she was just 18 years old. Her friend persuaded her to apply for the contract, and Heidi found herself with a contract and a busy schedule for three years.
Finally, she decided to settle down in the United States after several frequent-flyer miles jet-setting between Paris and Milan. Her attractive personality makes Heidi one of the hottest sports illustrated swimsuit models.
She refuses to be enslaved by the usual pretensions and behavior of celebrities despite her jet-set lifestyle. Her charming self-conscious side can sometimes overshadow her generally self-deprecating persona. The curvaceous beauty was afraid she couldn't be funny while appearing on US TV, the Late Show with David Letterman.
In addition to appearing on countless magazine covers, including Cosmopolitan and Glamour, Heidi has graduated into the ranks of one-name wonders, alongside Cindy, Naomi, and Tyra, after landing the cover of Sports Illustrated Swimsuit Models Edition.
Final Words
We hope you liked the list of our top sports illustrated swimsuit models of all time. Feel free to tell us in the comment box about the list. We appreciate your feedback.
Sports Illustrated Swimsuit Models – 2023 Hottest Infographics
FAQs Regarding Sports Illustrated Swimsuit Models
Q. Who is the sexiest Sports Illustrated model of all time?
The Body is not a nickname for nothing. Elle Macpherson is referred to as the sexiest SI model five times on the cover of the famous SI Swimsuit issue.
Q. Who was the first Sports Illustrated model?
Barbara Marchlowitz, formerly Babette Russell, or Babette, became the first Sports Illustrated Swimsuit Issue cover model. She was born Barbara Marchlowitz and was born Barbara Marchlowitz. It appeared on the cover of the swimsuit issue of the 20 January 1964 issue.
Q. Which model has been on the cover of Sports Illustrated the most?
With five swimsuit issue covers, Australian hottie and model Elle Macpherson holds the record.
Q. Who is the hottest female athlete right now?
Golfer Paige is known as much for her Instagram account as for her game. Her Instagram account has recently been offline as she has been focusing on golf. Paige is one of the hottest female athletes right now.
Last Updated On: December 2023