Top 10 Golfers With Most Holes-In-One On PGA Tour Since 1983
Golf is one of the most popular sports in the world. It requires a lot of patience and skill. Pro golfers can hit a ball with extreme precision several hundred yards away, even with difficult terrain or weather conditions. And the golfers with most holes-in-one on PGA tours are the masters of every terrain you can possibly imagine.
Hole-in-one occurs when a ball hit from the tee enters the cup with no intervening shots. Making this shot is a rare occurrence for any golfer and requires enormous precision, skill, and a bit of luck. On the PGA Tour, a golfer is fortunate to make an ace even once in their career. Hole-in-one is also a popular betting option offered by many bookmakers and can get you a bonus if you are lucky enough.
Golfers with Most Holes-In-One on PGA Tour – 2023 Ranking
Check out which golfers had the most luck and skill in getting the most hole-in-ones on PGA Tour since 1983 below.
10. Gibby Gilbert – 7
Gibby Gilbert is an American golfer who isn't very familiar with winning PGA Tours, having only won it 3 times.
However, that didn't stop him from making 7 incredibly successful holes-in-one, putting him on this list. And for that achievement, he is also dubbed among the best golfers of this year.
9. Willie Wood – 7
Willie Wood had an impressive junior career but could not completely transfer his success to the professional level.
He only won 1 PGA Tour but nevertheless managed to make 7 holes-in-one during his career.
8. Lanny Wadkins – 7
Lanny Wadkins had an incredible career that spanned over several decades, winning 21 PGA Tours, among several others.
He managed to achieve an ace on 7 occasions and was inducted into the World Golf Hall of Fame in 2009.
7. Bob Tway – 7
Bob Tway spent 25 weeks in the top 10 of the Official World Golf Ranking and won 8 PGA Tours. During that time, he made 7 aces.
6. Corey Pavin – 7
Corey Pavin is one of the few golfers to win an international tournament on five different continents. During his career, he won 15 PGA Tours and made 7 holes-in-one.
5. Scott Hoch – 7
Another American golfer on the list is Scott Hoch, who won 11 PGA Tours and four PGA Tour Champions, among several others. He has made 7 holes-in-one during his PGA Tour career.
4. Gil Morgan – 8
Gil Morgan is an American professional golfer with 41 professional wins, among which are 7 PGA Tours and 25 PGA Tour Champions. He made 8 incredible holes-in-one during his career.
3. Hubert Green – 8
Hubert Green was an American professional golfer who won 29 professional golf tournaments, including 19 PGA Tours, the 1977 U.S. Open, and the 1985 PGA Championship.
He was inducted into the World Golf Hall of Fame in 2007 and has made 8 holes-in-one on PGA Tour since 1983.
2. Hal Sutton – 10
Hal Sutton is an American professional golfer with 14 victories on the PGA Tour, including a major win at the 1983 PGA Championship.
With a career spanning over four decades, Hal Sutton is tied with Allenby and made 10 holes-in-one in this competition.
1. Robert Allenby – 10
Robert Allenby is an Australian professional golfer with 22 professional wins in his career, including four PGA Tours.
With 10 holes-in-one, he currently holds the world record for most aces on PGA Tour since 1983 with Sutton.
Conclusion
Speaking about records, did you know Dustin Johnson broke one at Masters recently? And if you think we have missed anyone, feel free to tell us in the comment box!
Golfers with Most Holes-In-One on PGA Tour – Infographics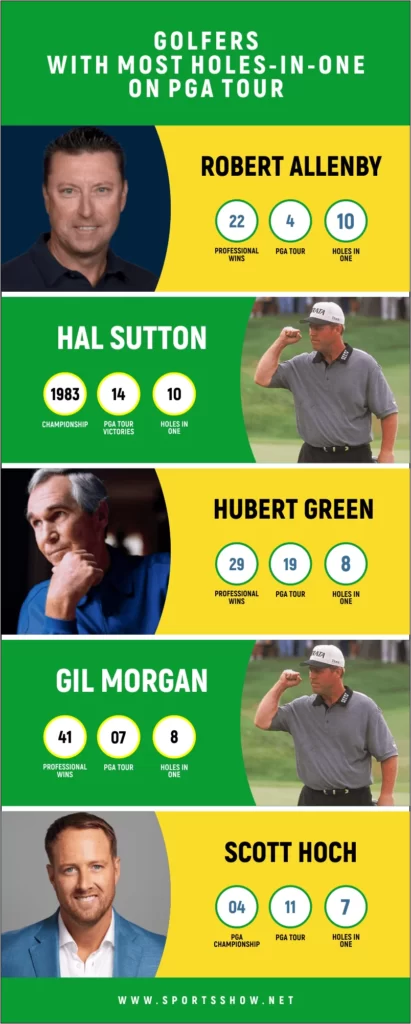 Last Updated On: December 2023