Top 10 Most Handsome Soccer Players In 2023
Portuguese football legend and current winger of Manchester United, Cristiano Ronaldo, is surely the most handsome footballer in the world in 2023. CR7 is not just popular in the football circuit but also in the fashion circuit, as he promotes several fashion labels.
A tremendously popular sport, football has produced countless outstanding and energetic athletes. Apparently, football has been able to attract the most spectators because of its enticing personality. There is support, love, and admiration for football players for their skills, performances, and records.
However, they are also liked for some other reasons, especially by their female fans. Smartness and pretty faces stand out among these attributes. You can check out a ranking of the world's ten most handsome soccer players of 2023 in this article.
Most Handsome Soccer Players | 2023 Hotness Ranking
Football is not just one of the richest sports to play or one of the most difficult sports to even try. It is also the home of some of the most handsome football stars. And here they are!
10. Eden Hazard – Real Madrid | Belgium
Belgian professional footballer Eden Michael Hazard was born on 7 January 1991. The Belgian national team captain plays as a winger for Real Madrid or an attacking midfielder. One of the best players of his generation, and he is known for his dribbling and passing abilities. Besides, he is now dubbed as one of the best football wingers right now.
A football player with blue eyes has a great personality and attractive appearance, known as one of the most handsome soccer players in 2022. In November 2007, when Hazard was 16 years old, he made his professional debut. For the first time in Ligue 1 history, a non-French player won the Young Player of the Year award during his first season. This was his initial achievement.
Hazard played over 190 times and scored 50 goals for Lille before joining one of the Premier League champions, Chelsea, in June 2012. In his first season, he won the UEFA Europa League. The following year, he won the PFA Young Player of the Year award in the next season. As a Chelsea player, Eden Hazard won the 2014–15 PFA and FWA Footballer of the Year awards for his 2014–15 season achievements.
The Belgian national team player has over 110 caps to his name. As a member of the Belgian national team, he participated in the 2014 FIFA World Cup, the 2016, and 2020 European Championships, which reached the quarter-finals. As Belgium's captain at the 2018 FIFA World Cup, he led them to an incredible third-place finish, the best for Belgium till now.
9. Keita Balde – Cagliari Calcio | Senegal
Spanish-born Senegal soccer player Balde currently plays for Cagliari Calcio and has appeared for his national team of Senegal frequently since 2016 and has earned 17 caps so far. Keita Balde is one of the sensational names in the football world and is known as one of the most handsome footballers in the world right now.
He has an enormous fan base around the globe because of his attractive personality and trendsetter style. However, he is also known as one of the strongest footballers right now. Blade owns dual citizenship with Senegal and Spain.
On 26th March 2016, he played his first international match for Senegal. 1st July 2011 marked Balde's signing with Series A Club Lazio. During the first year, he could not play for Lazio's youth system because he did not have Spanish citizenship or the passport he needed to register.
During the 2012-13 season, Blade played for Lazio's U-19 team and trained with the club's senior squad. Balde moved to Monaco on 29th August 2017, signing a five-year deal. Having played seven matches for Monaco in all competitions, he scored his first competitive goal for AS Monaco.
8. Arkadiusz Milik – Olympique de Marseille | Poland
Arkadiusz Krystian Milik is a Polish footballer born on 28th February 1994. Milik plays in the striker position for Marseille, on loan from Napoli, and the Polish national team. In his youth, Milik began playing football for Rozwój Katowice. His first contract with Górnik Zabrze was in 2011, followed by a one-year deal with Bayer Leverkusen and then loans with Ajax and FC Augsburg.
A nice-looking and charming footballer, Milik has a beautiful personality and is currently viewed as one of the most handsome soccer players in the world. Besides, he is also among the tallest footballers in his club and the national side.
Milik was a prolific offensive player for Ajax during his time in the Eredivisie. His transfer to the Italian side of Napoli took place on 1st August 2016 for €35 million. During UEFA Euro 2016, Milik represented Poland, reaching the quarterfinals of the tournament. Moreover, he was also a participant in the 2018 FIFA World Cup, where his team lost in the group stage.
While qualifying for the 2015 UEFA European Under-21 Championship, Miki scored nine goals for the Polish under-21s. Two back-to-back hat-tricks by one of the most handsome players in November 2013 against Malta and Greece are also included in this feat.
7. Isco – Real Madrid | Spain
Currently playing as an attacking midfielder for one of the richest football clubs, Real Madrid, and the Spain national team, Isco is a professional footballer from Spain. His name was included among the 30 best players worldwide for 2017-2018. During his career at Valencia, Isco mainly played in its reserve team before moving to Málaga in 2011.
In 2012, Isco won the Golden Boy award for his performances in Malaga. He is known for his stylish and handsome look and is regarded as one of the most handsome soccer players. Isco is one of the best attacking midfielders on his team.
In his eight years at Real Madrid, Isco has won 16 major titles, including four UEFA Champions League titles, two league titles, one Copa Del Rey, and four FIFA Club World Cups. Spain's Isco represented his country at several youth levels.
This is included at the 2012 Olympics before making his senior international debut in 2013. He played in the 2018 FIFA World Cup. Spain won a friendly against Argentina 6–1 on 27th March 2018, with Isco scoring his first hat-trick for Spain.
6. James Rodríguez – Al-Rayyan | Colombia
A Colombian footballer, Rodrguez was born on 12th July 1991 and plays as an attacking midfielder or winger for Al-Rayyan and the Colombia national team. Having started at Envigado before moving to Banfield in Argentina, he became one of the most popular players during his time there.
In his three years as a club member, he won numerous trophies and awards. Rodrigues is a 30-year-old star with a beautiful face and charming personality, known as one of the most handsome soccer stars. Besides, he is one of the most-followed footballers on Instagram right now.
Besides that, James was the most expensive player when he transferred to Real Madrid from AS Monaco in 2014. La Liga named James to their Team of the Season. The most handsome player in La Liga, James, won the best midfielder title in his debut season.
As an under-20 player for Colombia, James won the 2011 Toulon Trophy with the team. His most notable achievements were winning the Golden Boot as the top scorer in the 2014 FIFA World Cup and being included in its All-Star Team in the 2018 tournament.
5. Neymar Jr. – Paris Saint-Germain FC | Brazil
Besides representing the club as a forward for the Brazil national team and Paris Saint Germain, Neymar da Silva Santos Junior plays for the Brazilian national team. Originally born in Mogi das Cruzes, Neymar was a Brazilian footballer born in 1992. According to many experts, Neymar is one of the best football players of his generation. Besides, he is also among the highest-paid footballers of all time.
He is a versatile player who can play on the left or right wing, as a striker, a second striker, or both. In 83 international appearances and 53 goals, the Brazilian has 202 club goals. Furthermore, Neymar has become a famous worldwide celebrity. Due to his attractive personality, Neymar has been named one of the most handsome soccer players in 2022 by football fans.
He placed third behind Lionel Messi and Cristiano Ronaldo in the FIFA Ballon d'Or shortlist following his performance in Brazil. While serving as team captain in Rio 2016, Neymar led Brazil to victory, scoring the sole goal in a 1-1 draw with Germany.
The penalty he scored secured Brazil's first Olympic gold medal. Against PSG, Barcelona came from 4-0 down to defeat them 6-1 in their home leg on 9th March 2017 – the biggest comeback in football history.
4. Lionel Messi – Paris Saint-Germain FC | Argentina
Footballer Messi, born 24th June 1987, is an Argentine professional who plays for Argentina and captains the national team. In addition to being football fans' favorite player globally, Messi is one of the greatest football players of all time.
In addition to winning six Ballon d'Or, Messi won six European Golden Shoes, and he was in the Ballon d'Or Dream Team for 2020. Since Messi became a professional, he has been associated only with Barcelona. However, he took his transfer to the French side PSG in August 2022.
As a result of his remarkable record, he has won the UEFA Champions League four times, seven Copa del Rey titles, and ten La Liga titles. Mesi also holds the record for most hattricks in La Liga, with a total of 36.
One of the greatest football forwards, Messi, possesses a charm and an influential personality that makes him one of the world's most handsome footballers in the world right now. For club and country, he has scored more than 750 goals in his senior career and has the most career goals scored by a single club player.
3. Olivier Giroud – AC Milan | France
France national football team player and Premier League club Chelsea's forward Olivier Giroud was born on 30th September 1986. He is often considered one of the world's most underrated strikers due to his relentless work rate, strength, and shot power. He has the ability to score goals consistently. Giroud has a charming appearance and an attractive personality.
His eyes' color, above all, renders his character more beautiful and makes him one of the most handsome soccer players in 2022. Besides, he is also one of the best football strikers in the world right now. In 2008, aged 21, Giraud signed with Tours after beginning his career with Grenoble.
After finishing as the league's top goal scorer in 2010, he was named Player of the Year in Ligue 2. Since 2011, Giroud has earned more than 100 caps for France. Participation in five major tournaments is also included. France's second-best scorer of all time, earning the Bronze Boot for his joint second-best goal-scoring record at UEFA Euro 2016 as the country finished runner-up.
After winning the 2018 FIFA World Cup, he went on to become a national hero. As a top goal scorer in the 2019 UEFA Europa League, he won the FA Cup. Also, in the UEFA Champions League and the UEFA Europa League, finishing as a top goal scorer in all three contests for Chelsea.
2. Gerard Pique – FC Barcelona | Spain
A center-back for Barcelona, Piqué was born on 2nd February 1987. His generation considers him to be one of the best football defenders of all time. Besides, he also tops the all-time ranking of the richest football defenders.
He is one of four players to have won the UEFA Champions League two consecutive years. Moreover, Piqué has made 102 appearances for Spain since his debut on 11th February 2009. In the 2010 World Cup and UEFA Euro 2012, he contributed significantly to the success of the Spain team.
At the conclusion of the 2018 FIFA World Cup, he retired from national team duty. His professional career was mostly spent with FC Barcelona, and he served as a club captain. Beautiful girls worldwide are attracted to him because of his handsomeness and fantastic personality. This makes him one of the most handsome soccer players.
A 5–0 victory against Rubin Kazan was his first match as Barcelona captain. It was during the last group stage match at one of the biggest football stadiums, Camp Nou, in 2010. Piqué extended his contract at the club until 20th June 2024 on 20th October 2020.
1. Cristiano Ronaldo – Manchester United | Portugal
Ronaldo, who was born in Madeira on 5th February 1985, is a Portuguese soccer player. Portuguese forward representing Manchester United in Premier League and the national team of Portugal. Cristiano Ronaldo, or CR7, is often referred to as one of the greatest Portuguese footballers of his generation.
And in 2022, he has achieved his place among the top three of the highest-paid athletes. On social media, Ronaldo's attractive personality and charming appearance make him the most popular and most followed celebrity globally. He is still regarded as one of the most handsome soccer players in 2022, with a complete package of a beautiful character and a fitness icon.
Besides, the pacy striker is known for his physicality and ability to play on both flanks. For the national team of Portugal, he has scored 555 goals in 749 matches. He scored 61 goals in 54 appearances during the 2014-15 season.
And he won the UEFA Super Cup and the FIFA Club World Cup. Ronaldo was ranked one of Forbes' top ten highest-paid athletes in 2022 due to his popularity and marketability globally.
Final Words
We hope you liked the list of our top 10 most handsome footballers in 2023. Feel free to tell us in the comment box. We appreciate your feedback.
Most Handsome Footballers | 2023 Infographics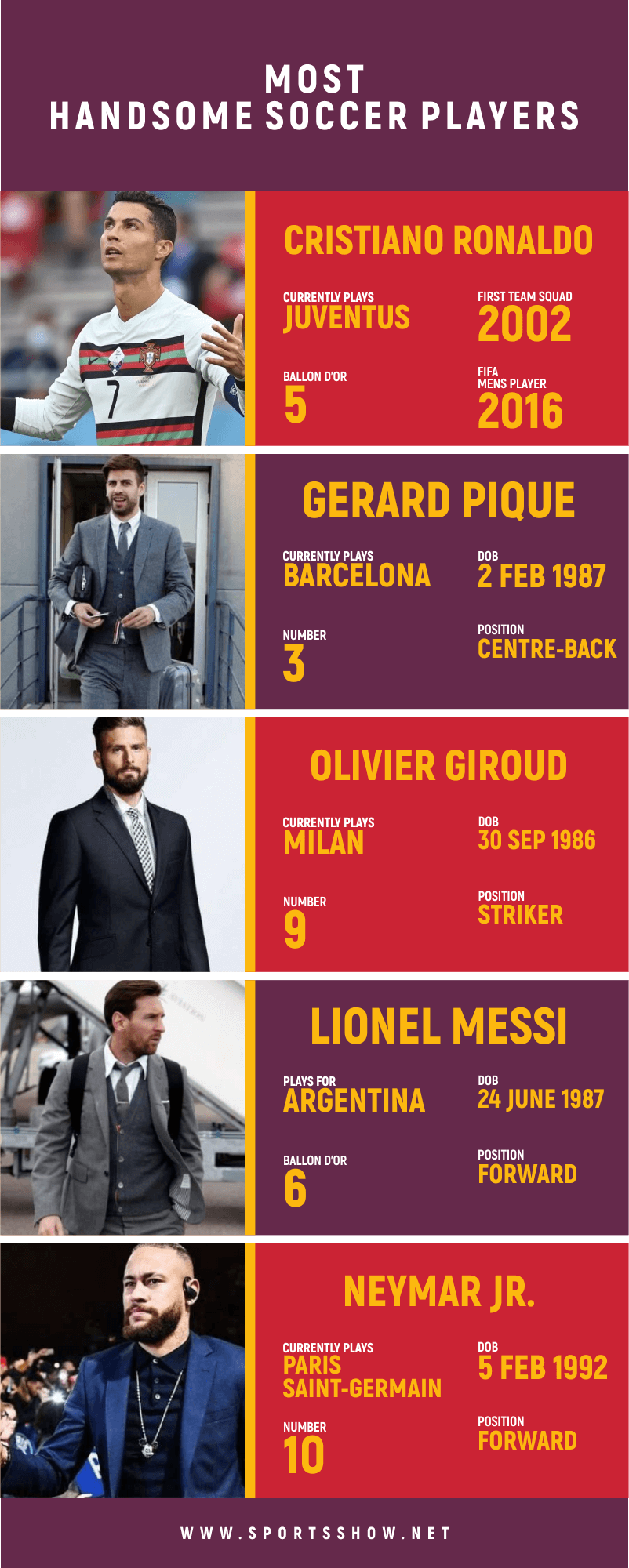 FAQs Regarding Most Handsome Soccer Players
Q. Who is the most handsome footballer in the world in 2022?
Cristiano Ronaldo still tops the list of the most handsome footballers of 2022. He is blessed with height and a fantastic physique, and on top of that, his abs are outstanding. It is because he practices and works out constantly that he has such a beautiful body.
Q. Who is the most handsome Premier League player?
Adrian stands out from the crowd because of his tall, athletic build, chiseled jawline, and piercing blue eyes. You probably won't miss Adrián, even when he isn't at the forefront of the match.
Q. Who is the best-looking football player?
Aside from his handsome appearance, Messi also has an influential personality, which makes him the best-looking football player currently playing in the world. His charm also seemed to bring luck to him. Under his leadership, his team became one of the most successful teams worldwide.
Q. Who is the hottest footballer in 2022?
James Rodriguez is the guy who is known as the hottest footballer in 2022. With his look and his hot body, he is compared more to a supermodel than to a footballer, especially among female fans.
Last Updated On: December 2023