Top 10 Greatest Skateboarders Of All Time | 2023 Ranking
Legendary American athlete Rodney Mullen is widely considered the greatest skateboarder of all time. He is the only skateboarder in the world to win 34 out of the 35 freestyle skating events he has ever participated in. American professional athlete Tony Hawk and Brazilian-American athlete Roberto Dean Silva also deserve their mentions among the greatest skateboarders of all time.
Skateboarding is a vastly popular action sport that involves riding a skateboard and performing and performing various tricks using it. While skateboarding is a favorite recreational activity, many youngsters are also taking this sport as a profession. It is also highly appreciated as an art form. So, let us take a look at the top 10 greatest skateboarders of all time.
Greatest Skateboarders Of All Time | 2023 Updates
Over the decades, passionate skateboarders have influenced and shaped the sport and inspired several athletes of the younger generations to partake in skateboarding. A report in the year 2009 suggested that the industry of skateboarding is worth approximately amount of $4.8 billion in terms of annual revenue, and there are 11.08 million active skateboarders around the world.
10. Anthony Mosley | great skate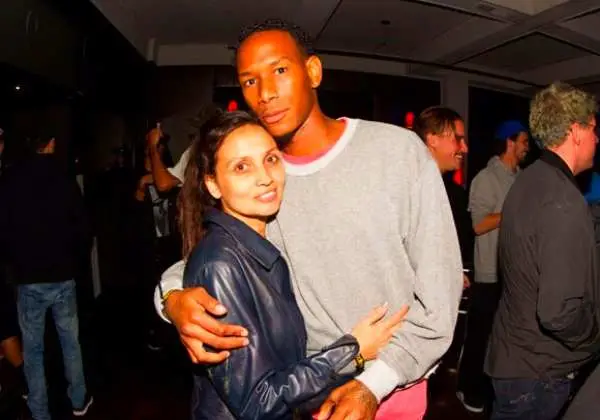 American professional skateboarder Anthony Mosley currently has a net worth of $10 million dollars. He was born in Los Angeles, California, and started to practice skateboarding when he was just thirteen years old. Anthony professionally focused on skateboarding as a profession when he was just sixteen years old.
He took 2nd Place in the first-ever competition in which he participated, in Tampa Am in Florida, and winning several competitions ever since. Besides his multiple side projects, Anthony is well-known for his showmanship and unique style. He got his first professional endorsement from Billabong after he showed his prominence in the future of skateboarding.
Mosley is currently collaborating with Dallas Stokes to create a line of skatewear and shoes under the label of Black Sheep. He established the "Be Cool" skating clinics in inner-city Los Angeles. Mosley now holds 10th place in our list of the top 10 greatest skateboarders of all time.
9. Chris Cole | skaters pro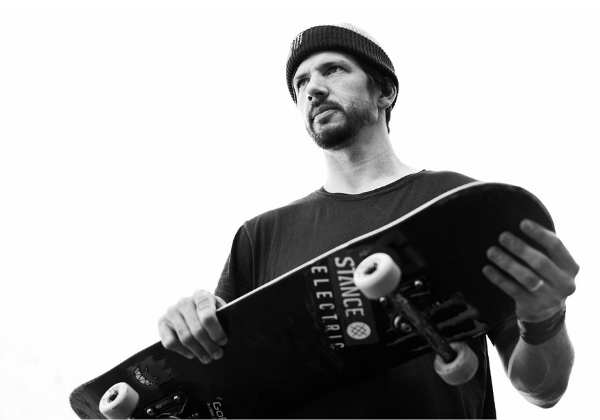 One of the most famous "regular-footed" professional skateboarders, Chris Cole, was born on March 10, 1982. He gained attention for the first time for his completion of a number of difficult tricks. Chris has done the 360 flips down the staircase at Wallenberg High School in San Francisco, California, a backside 360-degree rotation down the "Love Park" fountain in Philadelphia, and a backside 360 kickflip down the Carlsbad gap in Carlsbad, California.
He was named the "Skater of the Year" twice in 2005 and 2009 by Thrasher Magazine. Chris also achieved the "Reader's Choice" award from Transworld Skateboarding magazine.
He is a former shareholder of the Zero skateboard company and currently co-owns the Reign Skate Shop in Philadelphia, U.S. Chris is now sponsored by World Industries, Circa Shoes, eS Footwear, and Fallen Footwear.
8. Daewon Song | the best skateboarder
Korean-born American professional skateboarder Daewon David Song was born on February 19, 1975, and was widely regarded for his skillful technical street skateboarding. Along with Rodney Mullen, he is a co-owner of Almost Skateboards Company.
He was named the "Skater of the Year" by Thrasher magazine in 2006, an award that is widely regarded as one of the highest honors in skateboarding. He also appeared on the front cover of his feature article appeared in the April 2007 edition of the magazine.
Daewon Song was inducted in the twenty-ninth position in the list of "30 Most Influential Skaters of All Time" by Transworld SKATEboarding on the digital platform in December 2011. He currently has sponsorships from several reputed companies, such as Almost, Matix, DVS Shoes, Tensor, Andale, Mob, Loud Headphones, Glassy, Spitfire, and Brick Harbor. He surely deserves an eighth place in our list of the top 10 famous skateboarders of all time.
7. Lance Mountain | Skateboard Guys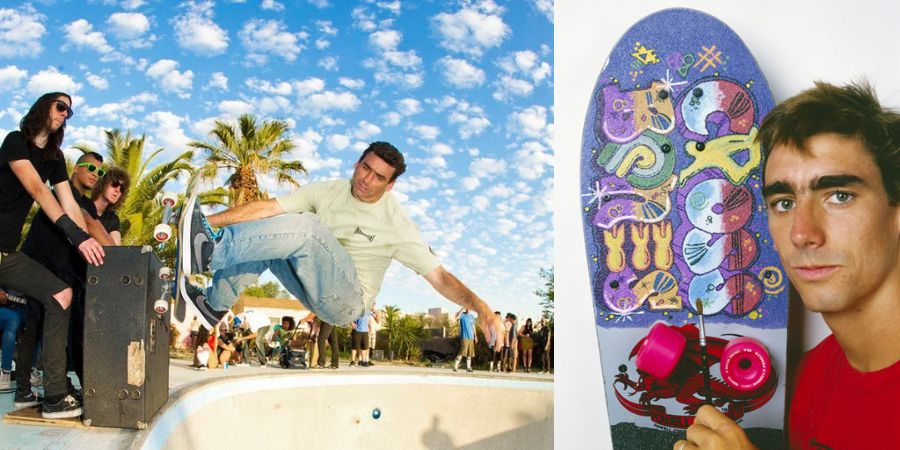 Professional skateboarder and artist Robert Lance Mountain was born on June 13, 1964, and was one of the most prominent skateboarders throughout the 1980s. He is well-known for his involvement with the Bones Brigade. He has achieved the eighteenth position in the list of "30 Most Influential Skaters of All Time" by Transworld SKATEboarding.
On that occasion, Skin Phillips, the Editor-in-chief of the magazine, stated that he "put a smile" on the faces of skateboarders for his ability. He got his first skateboard deck sponsor from Variflex, which is a company that he joined in 1981.
He then moved to the Powell-Peralta team in the following year. Lance Mountain now has sponsorships from many reputed companies such as Flip, Independent Trucks, Spitfire, Nike SB, and Stüssy clothing.
6. Rob Dyrdek | One of the famous skaters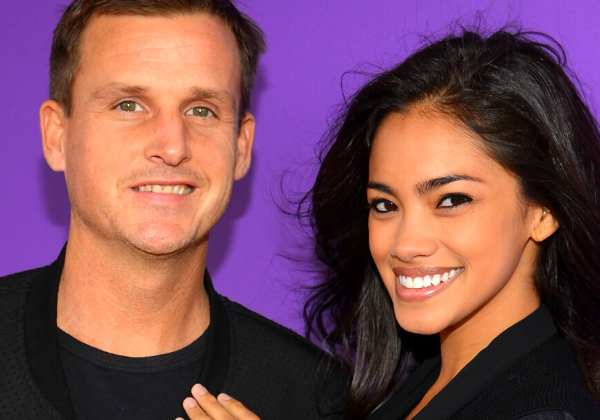 American professional skateboarder, entrepreneur, producer, actor, and reality TV star Robert Stanley "Rob" Dyrdek established the Street League Skateboarding competition. He appeared in many reality TV shows, such as Rob and Big, Rob Dyrdek's Fantasy Factory, and Ridiculousness. FoxWeekly named him as one of the "Most influential skateboarders of all time."
He was also featured in a documentary about his friend and fellow skater Danny Way called "Waiting for Lightning" in 2012. He made twenty-one individual Guinness World Records for skateboarding as a part of his former reality TV show called the show Rob & Big.
Rob Dyrdek now has sponsorships from Alien Workshop, DC Shoes, and Monster Energy. He also now has sponsorships from Silver Trucks, a company established with his help in 2003. He surely deserves a sixth place in our list of the top 10 greatest skateboarders of all time.
5. Danny Way | professional skateboarder
American professional skateboarder and company owner Daniel Way, famously known as Danny Way, was born on April 15, 1974, and is hugely popular for his extreme stunts. He attempted various extreme stunts with his skateboard, such as jumping into a skateboard ramp from a helicopter and jumping the Great Wall of China on a skateboard.
Thrasher magazine named him "Skater of the Year" twice till now. And he holds sixth place in our list of the top 10 greatest skateboarders of all time. He was featured in Shackle Me Not and Hokus Pokus, stunt videos by the H-Street skateboard company.
Danny co-founded the skateboard company Plan B in 1991 with Mike Ternasky. He has undergone 13 operations for extreme injuries in his active career till 2009. He now has sponsorships from Independent Truck Company, DC Shoes, Pacific Drive, MegaRamp, Capix, Plan B skateboards, ASEC, and Nixon.
4. Eric Koston | Best pro skateboarders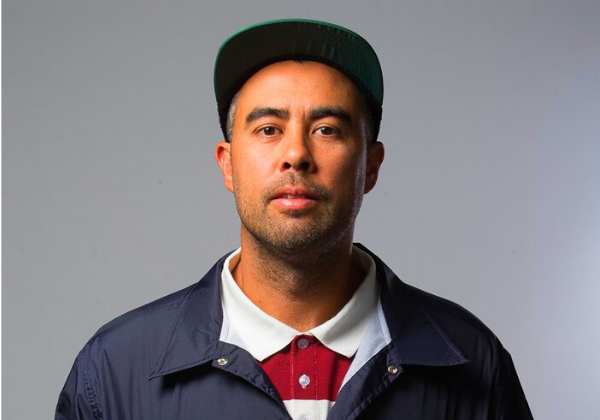 American professional skateboarder and company owner Eric Koston was born on April 29, 1975. His teammate and professional skateboarder Brandon Biebel named him the "Michael Jordan of skateboarding." He was featured in the video games Skate 2 and Skate 3 by Electronic Arts and also featured in the Tony Hawk video game series.
Eric co-owns the Fourstar Clothing with Guy Mariano and also the skatepark "The Berrics" with Steve Berra. He signed his first endorsement contract with H-Street Company, co-founded by Tony Magnusson and Mike Ternasky.
Eric currently has sponsorships from Independent Truck Company, Spitfire Wheels, Fourstar, Girl, Nike SB, Diamond, Supreme, The Berrics, Oakley, Jessup, and Skullcandy. He also recently signed his endorsement contract with Diamond Hardware and Jessup grip tape.
3. Bob Burnquist | best skateboarder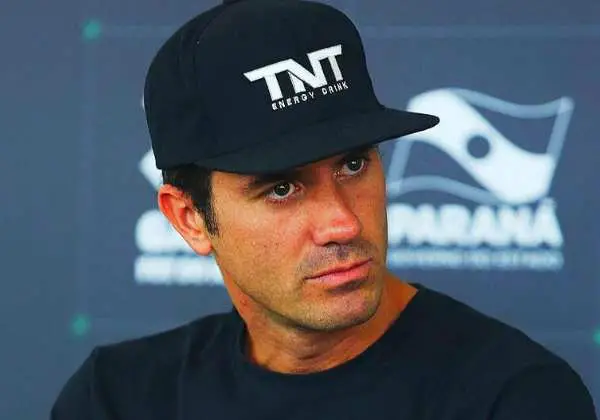 Brazilian-born American professional skateboarder Roberto Dean Silva Burnquist, famously known as just Bob Burnquist, was born on October 10, 1976, and is the first skateboarder to land a "fakie 900" in 2010. His successful attempt at 900-degree reverse-natural rotation made him the fifth person in history to successfully complete the 900 tricks.
Bob is reputed for creating innovative vertical tricks and also for his amazing switch stance skateboarding. He has a signature trick called "One-footed Smith grind." He achieved the X Games' best trick contest after completing his famous Fakie 5-0 with a Fakie kickflip in 2000.
Besides active skateboarding, Bob also made a guest appearance on the popular TV series "Kim Possible" like himself in 2004. He was also featured on Season 2, Episode 4 of Stan Lee's Superhumans in 2013. Bob surely deserves a third place in our list of the top 10 famous skateboarders of all time.
2. Tony Hawk | Famous Skateboarder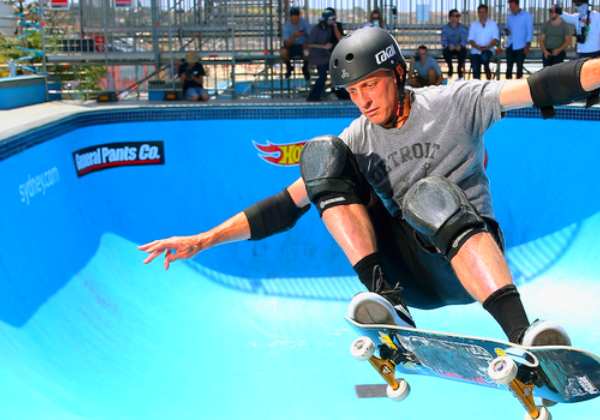 American former professional skateboarder and actor Anthony Frank "Tony" Hawk was born on May 12, 1968. He has earned his nickname "The Birdman." He is the first-ever skateboarder to achieve the first documented 900, a trick that involves two-and-a-half mid-air revolutions on a skateboard. Fans also regard Tony for his licensed video game titles distributed by Activision.
He now holds second place in our list of the top 10 greatest skateboarders of all time. Besides, he also holds his place among the richest Xtreme Games athletes. Most skateboarding fans regard Tony as one of the most influential and successful pioneers of modern vertical skateboarding.
He launched an extreme sports exhibition and tour called the "Boom Boom HuckJam" in Las Vegas in 2002. FoxWeekly named Tony one of the "Most influential skateboarders of all time" in 2014. He now has the sponsorships of Birdhouse, Independent, Quiksilver, Bones, and Nixon. Companies like Theeve also previously sponsored him.
1. Rodney Mullen | Best skateboarder Of All Time
American skateboarder, inventor, company owner, and public speaker John Rodney Mullen was born on August 17, 1966. The world knows him as a champion of freestyle and street skateboarding. He invented numerous skateboarding tricks such as kickflip, heelflip, impossible, flat-ground Ollie, and 360-flip. Rodney Mullen made over 20 skateboarding videos till now.
He also co-authored an autobiography with writer Sean Mortimer called "The Mutt: How to Skateboard and Not Kill Yourself". Mullen also co-owns and works as a team rider for the 'Almost' brand. He became popular for the development of new designs and technologies, such as Impact Support, Double Impact, and Uber Light.
Rodney received the Transworld Skateboarding Readers' Choice Award for Skater of the Year in 2002. He earned his place in the Skateboarding Hall of Fame in May 2013. Mullen surely deserves the top place in our list of the top 10 greatest skateboarders of all time.
Conclusion
Since the 1970s, the construction of state-of-the-art skateparks has helped skateboarders practice and use them. Skateboarding, alongside other sports like Freestyle BMXers, aggressive skaters, and scootering, are on the rise, and it is likely that these greatest skateboarders will gain a greater reputation and reward in the future.
Greatest Skateboarders – Infographics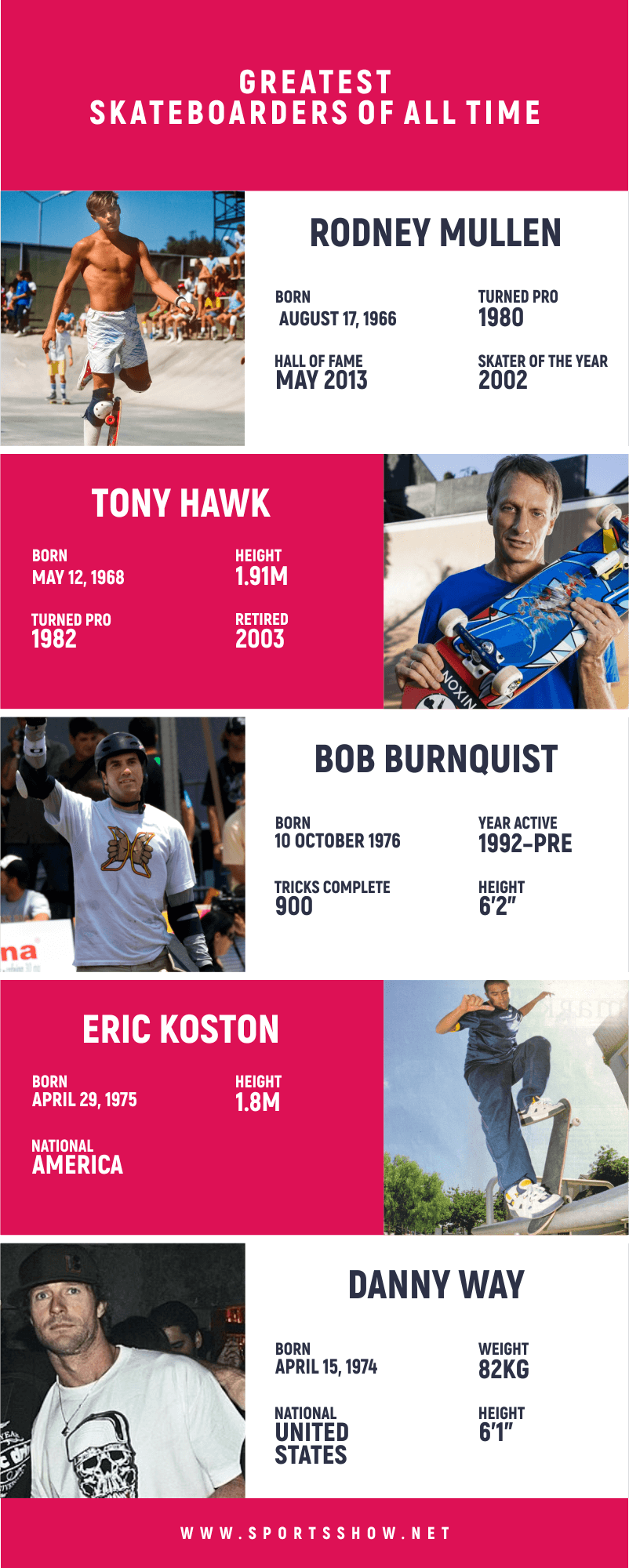 FAQs Regarding Greatest Skateboarders
Q. Who is the best skateboarder in the world?
Nyjah Huston, the top skateboarder in the world (and the highest paid, thanks to sponsorship deals with Nike SB and Monster), is getting ready for the biggest skate of his life in the 2022 Summer Olympics in Tokyo.
Q. Who is the father of skateboarding?
Rodney Mullen is known as the "Godfather of Street Skateboarding." Rodney won his first world skateboarding championship at the age of 14 and went on to win 34 out of 35 freestyle contests over the following decade, which is the most successful run in the history of the sport.
Q. What makes Tony Hawk so famous?
Tony Hawk is one of the most influential skateboarders of all time and a pioneer of modern vertical skating. In addition to skateboarding, Tony Hawk also supports skateparks in underserved areas through the Tony Hawk Foundation.
Q. Who invented skateboarding?
It was invented in California in the 1950s. The very first skateboard was probably created by surfers who wanted something to do when the waves were small. In the US, its popularity peaked around 1963, followed by a crash in 1965.
Last Updated On: December 2023